Trump and Putin talk of Russian Hoax
http://www.bbc.co.uk/news/world-us-canada-48141017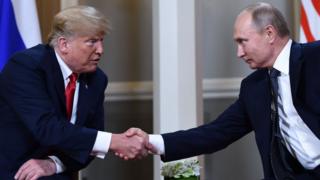 US President Donald Trump has said he spoke with Russian President Vladimir Putin in an hour-long call, covering issues including the "Russian Hoax".
"Had a long and very good conversation with President Putin," the US president tweeted.
Mr Trump rebuked a reporter who asked whether he had warned Mr Putin against meddling in the 2020 elections.
It was their first conversation since the Mueller report cleared Mr Trump of colluding with Russia on the 2016 vote.
The Kremlin confirmed in a statement the two had spoken, saying the call had been initiated by the White House.
Mr Trump and Mr Putin last spoke informally at last December's G20 Summit in Buenos Aires, after Mr Trump cancelled the two leaders' official meeting.
Mr Trump tweeted on Friday about their latest conversation: "As I have always said, long before the Witch Hunt started, getting along with Russia, China, and everyone is a good thing not a bad thing."
When asked in the White House on Friday whether he had warned Mr Putin that Moscow should not interfere in the next US presidential election, Mr Trump told the reporter she was "very rude".
"We didn't discuss that," he said.
"Getting along with countries is a good thing and we want to have good relations with everybody."
But the White House said the matter of alleged Russian meddling had been broached in the call.
Press secretary Sarah Sanders said: "Very, very briefly it was discussed, essentially in the context of that it's over and there was no collusion, which I'm pretty sure both leaders were very well aware of long before this call took place."
Mrs Sanders also said Mr Trump and Mr Putin had briefly discussed the investigation by US Special Counsel Robert Mueller into alleged Russian interference in the 2016 presidential election.
The White House press secretary described the call as an "overall positive conversation".
A redacted version of the special counsel's report was made public last month. It did not determine that the Trump campaign conspired with Russia, but it detailed repeated efforts by Mr Trump to thwart an investigation he feared would end his presidency.
Mr Mueller concluded his inquiry could not exonerate Mr Trump of obstruction of justice, noting Department of Justice guidance that a sitting president cannot be criminally charged.
On Friday, Mr Trump and Mr Putin also discussed thorny foreign policy issues:
According to the White House, Mr Trump told Mr Putin the US "stands with the people of Venezuela" and stressed he wanted to bring humanitarian relief supplies to the chaotic country. While the Trump administration backs opposition leader Juan Guaidó, Russia is allied with sitting Venezuela President Nicolás Maduro. In March, the Moscow foreign ministry accused President Trump of "boorishness on a global scale" after he said Russia should "get out" of Venezuela
Mr Trump and Mr Putin also talked about the possibility of a new multilateral nuclear accord between the US, Russia and China, or an extension of the current US-Russia strategic nuclear treaty, said the White House. In October, Mr Trump announced the US would withdraw from a landmark weapons pact, the 1987 Intermediate-Range Nuclear Forces (INF) treaty. The only remaining US-Russia arms agreement – the 2011 New Start treaty – is due to expire in February 2021
Mr Trump and Mr Putin are also said to have addressed ongoing conflict in Ukraine. At the end of last year, Mr Trump cancelled a summit with Mr Putin after Russian border guards fired on three Ukrainian ships and seized their crews off the Crimean Peninsula. According to the Kremlin, Mr Putin said on Friday's call with Mr Trump that Ukraine's newly elected administration needed to take responsibility for clashes with Russian-backed rebels in eastern Ukraine