New Star Wars movie title revealed
http://www.bbc.co.uk/news/entertainment-arts-47915206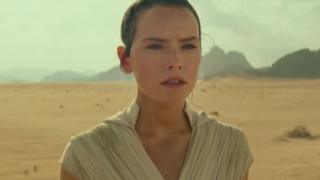 The next Star Wars movie, episode IX, will be titled The Rise of Skywalker, it has been announced.
The title was revealed at a Star Wars celebration event in Chicago, while a teaser trailer was posted on Twitter with the words: "Every generation has a legend."
Director JJ Abrams said the movie takes place some time after previous instalment The Last Jedi.
The Rise of Skywalker is due to be released later this year.
Despite his apparent death at the end of Episode VI, Return of the Jedi, Emperor Palpatine seems to be making a comeback.
His sinister cackle is heard at the end of the trailer and Ian McDiarmid, who plays the character, strolled on stage to loud applause at the announcement.
The two-minute trailer, the first footage seen from the new film, also features a brief glimpse of Princess Leia, played by the late Carrie Fisher.
She embraces Rey (Daisy Ridley), while Luke Skywalker's voice is heard saying: "We'll always be with you. No one's ever really gone."
Fisher died in 2016 but the film-makers were able to use previously unseen footage from The Force Awakens.
Fans welcomed the re-appearance of Lando Calrissian, played by Billy Dee Williams, who is seen piloting the Millennium Falcon.
The movie also features the return of John Boyega as Finn, and Oscar Isaac's Poe Dameron.
The trailer opens with Rey on a desert planet as Skywalker, played by Mark Hamill, says in a voiceover: "We've passed on all we know. A thousand generations live in you now. But this is your fight."
She activates her lightsaber as a TIE fighter bears down on her, flying close to the ground. As it reaches her, she backflips over it.
Then we see Kylo Ren, played by Adam Driver, slicing through enemies in a blood-red forest.
Lando Calrissian appears at the controls of the Millennium Falcon, putting it into hyperdrive as a title card says: "The saga comes to an end."
Heroes including C-3PO are seen being chased across the desert planet in a low-flying craft before the trailer cuts to the shot of Rey hugging Leia.
Then we see Rey, Finn, Poe, C-3PO, BB-8 and Chewbacca walking to the edge of a cliff by the sea. Across the water appears to be the wreckage of a Death Star.
The film is due to be released on 20 December.