Jet Airways halts international flights
http://www.bbc.co.uk/news/business-47905089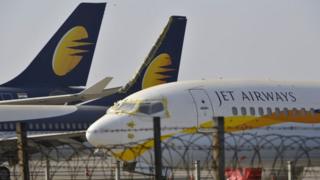 Jet Airways appears to have suspended all its international flights, raising fresh fears about the survival of India's largest private airline.
The airline, saddled with more than $1bn (£765m) of debt, is seeking a financial lifeline to avoid collapse.
The Indian government said steps were being taken to ensure passenger safety after flights were cancelled.
Carriers in India must maintain a fleet of least 20 aircraft to continue to operate international services.
On Thursday, the airline grounded 10 more planes over unpaid fees to leasing firms and several local media reported the airline is now operating 14 planes.
The airline has more than 100 aircraft in its fleet, and flies on 600 domestic and 380 international routes.
It did not respond to BBC requests for comment on the size of its current fleet or operations.
India's Aviation Minister, Suresh Prabhu, tweeted that his ministry would "review issues related to Jet Airways" and "take necessary steps to minimise passenger inconvenience and ensure their safety".
Various reports from India on Friday said that Jet Airways had cancelled all international flights, which include services to Europe and Asia.
In a statement on Thursday, Singapore's Changi Airport said Jet Airways had "suspended its services to and from Singapore until further notice".
All Jet Airways' international flights scheduled to depart on Friday from Delhi – to Singapore, London, Amsterdam and two to Kathmandu – are cancelled, the airport's website says.
According to the official website for London's Heathrow airport, Jet Airways' Friday flights to Mumbai and Delhi will not operate.
A Heathrow spokesperson said: "We are aware of this situation and our main priority is working with our passenger service teams to support those affected. We advise travellers to contact the airline for the latest information."
Callers to the customer line in the UK receive an engaged tone while some frustrated customers were sending tweets to the airline which appeared to go unanswered.
As it typical in the airline industry, Jet Airways has a number of code sharing agreements, one of which is with Virgin Atlantic.
Virgin Atlantic said it was aware that a number of Jet Airways had been cancelled on Friday. "Any customers who have booked directly with Virgin Atlantic should check our website www.virginatlantic.com for the latest advice. All other customers on Jet operated flights should contact them directly," it said.
The UK's Civil Aviation Authority said it was aware flights had been suspended.
Jet Airways owes money to employees and suppliers and in recent weeks it has grounded aircraft and cancelled thousands of flights – disrupting passengers locally and around the world – as its financial strains worsened.
The pilots union in India is planning a protest on Saturday and has written to the airline demanding that the employees are paid. Staff of the airline were pictured by Priyanka Iyer of Business Television India marching to the company's headquarters in Mumbai.
Rare intervention
By Sameer Hashmi, India business correspondent
In March, when the crisis at Jet Airways led to thousands of flights getting cancelled. the government immediately stepped in and asked public sector banks to rescue the private carrier.
It was a rare move. With India holding a national election, Prime Minister Narendra Modi's government did not want the airline to be grounded as that would have affected 23,000 jobs.
The lenders which took control of the airline promised to provide a lifeline until a new investor came on board. But despite that assurance, the situation has become worse.
The lenders have only released a fraction of the amount they had promised so the airline has not been able to pay aircraft leasing companies. This means its already shrinking fleet has become even smaller.
At the start of this year, the airline had more than a 100 aircraft as part its fleet.
The lenders have started accepting bids from potential investors, but that process will take a couple of months to complete. And many analysts fear that Jet Airways will not survive even a week if immediate cash is not provided to keep the operations running.
Investment sought
The airline was founded by Naresh Goyal more than 25 years ago and he and his family currently own 52% of the airline, although that majority stake is expected to be lost as lenders' restructure the debt.
A consortium of investors led by the State Bank of India (SBI) took control of the airline in March.
The group is searching for a new investor to acquire a stake of up to 75% in Jet Airways. The deadline for bids had been extended to Friday, according to reports.
Ellis Taylor, deputy Asia editor of Flight Global, told the BBC the airline was in a "precarious position".
"The interim lifeline that the carrier talked about two weeks ago looks like it won't materialise any time soon, and that really leaves its future looking bleak," he said.
There were reports in local media that India's aviation ministry might review the regulations setting the fleet cap, which could allow the airline to resume international services.
---
Have your travel plans been affected by Jet Airways cancellations? Email haveyoursay@bbc.co.uk
Please include a contact number if you are willing to speak to a BBC journalist. You can also contact us in the following ways: