Former Concorde pilot and wife found dead
http://www.bbc.co.uk/news/uk-england-berkshire-47798722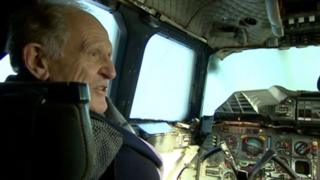 A former Concorde pilot and his wife have been found dead at their home.
The bodies of Tony Meadows and his wife Paula, both in their 80s, were discovered on Tuesday near the west Berkshire village of Bucklebury.
Mr Meadows was part of the crew during Concorde's first passenger flight from Heathrow to New York in 1977.
Thames Valley Police has launched a murder investigation but is not looking for anyone else in connection with the deaths.
Officers were called to the property in Pot Kiln Lane at about 19:35 BST. A forensic tent has been set up on land outside the property.
Det Ch Insp Andy Howard said it was a "tragic incident" and there was no danger to the public.
"We are aware that Bucklebury is a small community and this will have an impact on its residents [and] as such people will see an increased police presence," he added.
Mr Meadows previously told the BBC in an interview for Points West that he had flown Concorde for 14 years.
He said one of the highlights of his career was flying the Queen to Bahrain in 1979.
A family friend said the Meadows had lived alone in their farmhouse for 35 years.
She said she had spoken to one of their three "devastated" children on Wednesday morning.
'Very caring'
The woman, who did not want to be named, said: "They can't understand it. They haven't been able to get their minds around it really.
"Paula has dementia so she hadn't been very well for quite a while.
"But Tony always took care of her and looked after her very well, and took her for walks.
"He was a very caring person, very friendly."
Neighbours in nearby Frilsham spoke of their shock over the couple's deaths.
One said she saw the "nice couple" occasionally at lunches.
The woman said Mr Meadows had recently discovered he trained in the RAF with another local resident.
"They knew of each other but Tony arrived with a photograph and said 'I recognised your smile as soon as I saw you' and started talking about how he flew Concorde," she said.