Greece and N Macedonia bury hatchet with selfie
http://www.bbc.co.uk/news/world-europe-47785258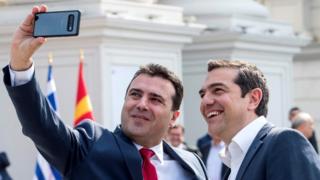 For the first time since Greece's northern neighbour became independent in 1991, a Greek leader has visited the newly renamed North Macedonia.
PM Alexis Tsipras completed a deal in January to end their three-decade name row, and the two countries are now seeking to boost their relations.
Counterpart Zoran Zaev greeted him with a selfie outside government buildings.
"The first prime minister of Greece to visit North Macedonia. Truly historic day," he wrote on Twitter.
The Greek prime minister was accompanied by 10 ministers and more than 100 business leaders.
Tweeting the selfie, Mr Zaev referred to "happy moments for an even happier future for the peoples of our friendly countries".
The two men signed a series of agreements before holding a joint news conference, in which Mr Zaev spoke of his opposite number as a "close, personal friend".
Greece had always objected to its neighbour's use of "Macedonia", because of the northern Greek province of the same name.
Under last summer's Prespa accord, the two countries agreed that the Balkan state would become the Republic of North Macedonia, in return for Greece backing its long-stalled bids to join Nato and the European Union.
The deal came into force in February, after ratification by both parliaments, and North Macedonia hopes to join the Western military alliance soon.
What the two leaders said
Arriving in Skopje, Mr Tsipras said the "historic visit" began by crossing the Friendship motorway, whose name was changed from Alexander of Macedonia motorway in February 2018 as part of efforts to improve relations.
Greeks long accused their neighbours of trying to appropriate the ancient heritage of Alexander and of having territorial ambitions.
Mr Zaev said there would be big economic benefits from the deal with Greece.
The two leaders convened the first co-operation council between the neighbours and they agreed to open a second border crossing. Under the deal, a joint committee of experts has been formed to assess possible bias in school textbooks, and Mr Tsipras said their consultations had ended in a positive manner.
Ahead of his arrival, Mr Tsipras gave an interview with North Macedonian media in which he acknowledged that "a significant portion of the Greek people was and still is seriously concerned about this issue".
An opinion poll late last month suggested 73% of Greeks "probably disagreed" with the Prespa agreement.
He said he and Mr Zaev had a responsibility to show how both countries could build mutual trust and benefit from the new deal.
Both leaders have endured difficult political opposition at home.
Mr Tsipras faces elections later this year, with conservative leader Kyriakos Mitsotakis backing Greeks in the Macedonia region who he said felt humiliated by the agreement.
Mr Zaev has himself been bitterly criticised by President Gjorge Ivanov.