Lyft shares surge over 20% in market debut
http://www.bbc.co.uk/news/business-47741990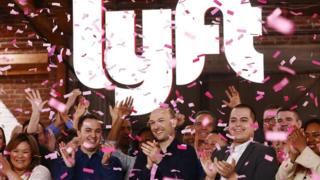 Shares in Lyft have jumped by 21% after the ride hailing company listed its shares on the Nasdaq stock exchange in New York.
The company's stock rose from a starting price of $72 each to $87.24, valuing Lyft at $28.2bn.
The initial public offering (IPO) has made multi-millionaires of the seven year old company's founders, Logan Green and John Zimmer.
Their combined stake in Lyft is worth more than $1bn.
Lyft is yet to make a profit and reported widening losses of $911m last year compared to $688m in 2017 despite revenues rising to $2.1bn.
The IPO is seen as a litmus test for a number of technology flotations that are expected this year, including Lyft's bigger rival Uber which could be valued at as much as $120bn when it lists its shares.
Lyft's business is built on the premise that having a car is expensive and as more people move into urban areas, they are shifting away from owning a vehicle to using services to get around.
In the US alone, households spend over $1.2trn a year on personal transportation.
Lyft says it has a 39% share of the ride sharing market in the US, up from 22% in 2016 but still below Uber which is still the industry's biggest player.
Uber also operates globally although in recent years it has sold off stakes in its Chinese and South East Asia businesses.
Mr Zimmer, president of Lyft, said the company was content to focus on the US and Canadian market.
He told CNBC: "We're not needing to pull away from markets, we're going at the right pace, we're going deep in transportation, deep in the markets we're in. That has allowed us to gain the market share that we've gained and [global growth] is a great call option down the road."
Lyft is raising $2.3bn which it plans to use for operating costs as well as making investments in acquisitions and technology.
At the flotation price, Mr Green's stake was worth about $600m while Mr Zimmer's was valued at $415.8m.