Stormy Daniels lawyer accused of extortion
http://www.bbc.co.uk/news/world-us-canada-47699802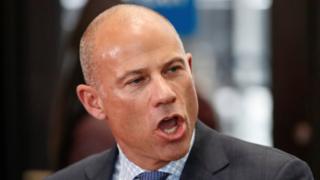 US lawyer Michael Avenatti, who represented porn star Stormy Daniels in her lawsuit against US President Donald Trump, has been charged with fraud.
Prosecutors says he tried to extort more than $20m (£15m) from Nike, threatening to use his profile to inflict reputational harm on the firm.
A frequent guest on TV news and talk shows, Mr Avenatti emerged as a fierce critic of President Trump.
At one point he said he was considering running for president himself.
Prosecutors in New York announced the charges relating to the alleged attempt to extort money from Nike on Monday.
Mr Avenatti, according to a criminal complaint, met a lawyer for Nike earlier this month and allegedly threatened to release damaging information about the company unless it made "multi-million dollar payments" to him and another, unnamed co-conspirator.
He also, allegedly, demanded $1.5m (£1.13m) for an individual he claimed to represent.
"I'll go take $10bn (£7.56bn) off your client's market cap", Mr Avenatti reportedly told a Nike lawyer during a meeting last week.
He was arrested in New York at 12:30 EST (17:30 GMT), shortly after announcing the he would hold a press conference about a scandal surrounding Nike.
In a separate case in Los Angeles, Mr Avenatti, 48, has been charged with embezzling money from a client and defrauding a bank through fake tax returns.
Mr Avenatti had represented Stormy Daniels, who is suing the president to get out of a non-disclosure agreement she signed before the 2016 election. The non-disclosure agreement related to an affair she said he had with Mr Trump in 2006.
On Saturday, he tweeted that the president should be indicted for colluding with his former lawyer "to violate the law and commit crimes."
Ms Daniels, in a statement, told CNBC that she had terminated Mr Avenatti's contract "weeks ago… after discovering that he had dealt with me extremely dishonestly."
"Knowing what I know now about Michael, I'm saddened but not shocked regarding his arrest."