Seven hurt as Gaza rocket hits Israeli home
http://www.bbc.co.uk/news/world-middle-east-47689684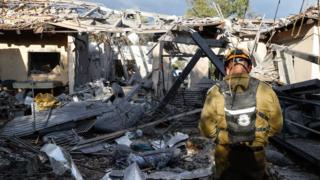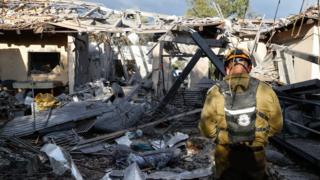 Seven people have been injured after a rocket fired from the Gaza Strip hit a house in central Israel, police say.
The rocket came down at 05:25 local time (03:25 GMT) in Mishmeret, 20km (12 miles) north of the city of Tel Aviv.
This is the furthest a Palestinian rocket has reached in Israel since the 2014 conflict with militants in Gaza.
Israeli Prime Minister Benjamin Netanyahu, who is cutting short a trip to the US over the incident, has vowed to respond with force.
So far no-one has said they carried out the attack. But an Israeli military spokeswoman has accused the militant group Hamas, which controls Gaza.
A week and a half ago, two rockets were launched towards Tel Aviv and nobody was hurt. The Israeli military responded with dozens of air strikes across Gaza, which injured four people.
Hamas and Israeli officials later said those rockets had been fired "by mistake".
The Israel Defense Forces (IDF) said the rocket that hit the house in Mishmeret was launched from Rafah in southern Gaza, about 120km (75 miles) away.
The explosion from the rocket severely damaged the house and set it on fire.
Israel's Magen David Adom ambulance service said that among the injured were three children – an infant, a three-year-old boy and a 12-year-old girl.
The blast also caused damage to at least one nearby home and several vehicles.
"We heard the siren and we didn't think it was anything, but my daughter made us go into the reinforced room," Smadar Castelnovo, who lives opposite the house that was hit by the rocket, told Reuters news agency.
"My daughter was upset because we had left the dog out. We went out to get the dog and as soon as we went back in there was a very loud boom."
Although the rocket triggered sirens in the Sharon and Emek Hefer regions, Israel's Iron Dome missile defence system did not appear to have been activated.
IDF spokeswoman Major Mika Lifshitz blamed Hamas for the attack.
"It's a Hamas rocket, itself made by Hamas," she said. "It has an ability to reach more than 120km."
"We see Hamas as responsible for all that happens in the Gaza Strip," she added.
Maj Lifshitz said the IDF was deploying two additional brigades to the area surrounding Gaza, and that there was a "very limited" calling up of reservists.
The Israeli authorities have also closed the Kerem Shalom and Erez border crossings with Gaza.
Prime Minister Netanyahu said in a statement: "There was a criminal attack on the State of Israel, and we will respond forcefully."
"In a few hours, I will meet President Trump and immediately afterwards I will return to Israel in order to oversee our activities."
Hamas has so far not commented, but its leader Yehiya Sinwar reportedly cancelled a public meeting scheduled for Monday afternoon.
But Islamic Jihad, another militant group, said: "We warn the Zionist enemy from committing an aggression against the Gaza Strip."
The BBC's Yolande Knell in Jerusalem says the latest rocket fire has dramatically raised tensions in the region, just 15 days before Israel holds a general election.
Mr Netanyahu is currently locked in a tight battle with his main rival, former IDF chief of staff Benny Gantz.
The prime minister's campaign for a fifth term has been overshadowed by possible indictment in three corruption cases.