Shots fired near mosque in New Zealand
http://www.bbc.co.uk/news/world-asia-47578798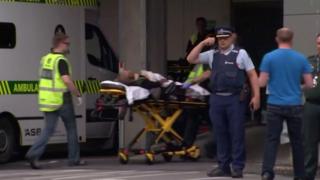 An active shooter is at large in Christchurch, New Zealand, after an attack on a mosque in the city, police have warned.
Witnesses told local media there were several casualties. Police warned people to avoid the area and all schools and a hospital are in lockdown.
Eyewitnesses have reported running for their lives to escape a shooter.
Unverified footage purportedly taken by the shooter has emerged, suggesting he filmed as he shot victims.
Mohan Ibrahim, who was in the area of the mosque, told the New Zealand Herald: "At first we thought it was an electric shock but then all these people started running.
"I still have friends inside.
"I have been calling my friends but there are many I haven't heard from. I am scared for my friends lives."
Live coverage of the New Zealand mosque shooting
What happened at the mosque?
The sequence of events remain unclear and mostly come via eyewitness reports to local media.
Witnesses at the Al Noor mosque, located in central Christchurch along Dean Avenue, facing Hagley Park, reported seeing people bleeding on the ground outside the building, but this has not been confirmed by police or officials.
There are reports that a second mosque in the suburb of Linwood has also been evacuated.
How are the authorities responding?
A spokeswoman said Canterbury District Health Board (CDHB) has activated its mass casualty plan, according to New Zealand news site Stuff.nz.
The plan includes clearing emergency room space for casualties. The spokeswoman did not comment on how many patients were expected.
Police have cleared Cathedral Square, where thousands of children were holding a rally for action on climate change.
Police Commissioner Mike Bush said: "A serious and evolving situation is occurring in Christchurch with an active shooter.
"Police are responding with its full capability to manage the situation, but the risk environment remains extremely high.
"Police recommend that residents across Christchurch remain off the streets and indoors until further notice. Christchurch schools will be locked down until further notice.
"Police thanks the public for their cooperation and will provide further updates to keep residents informed."
Who has been caught up in the attack?
Apart from numerous witness reports of casualties, a reporter following the Bangladesh cricket team, who are currently in New Zealand, tweeted that the team had "escaped from a mosque near Hagley Park where there were active shooters".
Player Tamim Iqbal tweeted that the "entire team got saved from active shooters".
Bangladesh Cricket Board spokesman Jalal Yunus said most of the team had gone to mosque by bus and were about to go inside when the incident took place.
"They are safe. But they are mentally shocked. We have asked the team to stay confined in the hotel," he told the AFP news agency.