Tesla to raise prices worldwide
http://www.bbc.co.uk/news/business-47521940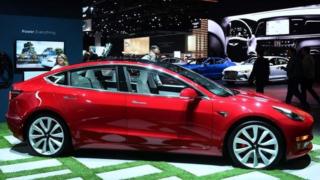 Tesla is increasing prices of its electric cars after scaling back a store closure programme.
The carmaker said the 3% price rise would not apply to the new mid-market Model 3.
Earlier this month Tesla said it would close an unspecified number of stores to fund a cut in the price of the Model 3 in the US to $35,000 (£26,400).
It will now close "about half as many" stores – making half the cost savings.
The carmaker, founded by Elon Musk, said that keeping more stores open would require a rise in vehicle prices by about 3% on average worldwide.
It has 378 stores and service locations but had not been specific about which ones would close.
"Over the past two weeks we have been closely evaluating every single Tesla retail location, and we have decided to keep significantly more stores open than previously announced as we continue to evaluate them over the course of several months," the company said.
While it is pressing ahead with the price cut to the mid-market Model 3, prices will go up for more expensive variants of Model 3, as well as Model S and X cars, which can already cost up to £87,000. Customers can order at existing prices until 18 March.
It is still planning to conduct its sales online and said that buyers in stores will be shown how to order a Tesla on their phone, a process which Tesla says will take just a few minutes.
It had previously said that shifting sales online would allow it to cut prices by 6% on average – and cut the price of the Model 3.
The company says it has a "generous return policy" to avoid the need for test drives, as would-be buyers can return a car after 1,000 miles or seven days.
Tesla said that some stores in "high visibility locations" which have been closed will be reopened – albeit with smaller numbers of staff.
Stores will hold fewer cars for those customers who want to drive away with new vehicle immediately.
The company has been making efforts to cut costs after the "most challenging" year in its history. In January it announced 7% of its 45,000-strong workforce would be cut, indicating around 3,000 job cuts.
At the time Mr Musk had said the firm's cars were still "too expensive for most people".
He has faced controversy over his tweets and last month the US regulator, the Securities and Exchange Commission, asked the courts to hold him in contempt for violating a settlement month aimed at limiting his social media comments.
He has until today to formally respond but had already tweeted the the regulator's oversight system is "broken".
The matter stems back to his tweets about the company's financial performance and tweets in August when he claimed he had secured funding to take the firm private.