Record US lottery win for act of kindness
http://www.bbc.co.uk/news/world-us-canada-47449692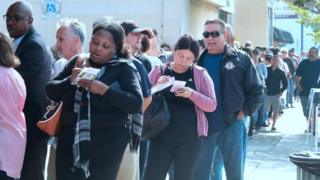 The winner of a record $1.5bn (£1.2bn) lottery jackpot in South Carolina gave up a spot in the queue before purchasing the ticket, officials say.
The individual, who chose to remain anonymous, committed a "simple act of kindness [that] led to an amazing outcome", lottery officials said.
The winner is electing to receive a lump sum pay-out of $877m.
The anonymous individual will take home the largest-ever US jackpot paid to a single person.
"The winner marvels at how every decision made that day brought the winner to the store, at that very moment," South Carolina lottery officials said in a statement on Monday, nearly five months after the winning ticket was sold.
According to lottery officials, the winner allowed another customer to cut in the queue to purchase a Mega Millions lottery ticket before buying one.
Officials say the winning numbers were randomly generated by the Quick Pick machine.
Hogan Brown, the Lottery Commission's Executive Director, said in a statement: "We are delighted that the winner is a South Carolinian and has come forward to claim this remarkable prize."
The owner of the shop that sold the winning ticket, KC Mart in Simpsonville, a suburb of Greenville, said he will use the $50,000 he will receive to renovate his store.
"It's exciting. Good for me, good for him, her, whoever it is," said Chirag Patel.
South Carolina is one of the only states that allow winners to conceal their identities.
The others are Delaware, Ohio, Kansas, Maryland, Georgia, North Dakota, and Texas.
Top five US jackpot wins
$1.58bn: A Powerball win in 2016. The prize was split three ways by ticket holders from California, Florida and Tennessee
$758.7m: Won in 2017 by Massachusetts resident and mother-of-two Mavis Wanczyk, who said she picked the numbers based on relatives' birthdays
$656m: A Mega Millions top prize win in 2012 shared between three winners who purchased tickets in Maryland, Kansas and Illinois
$648m: A Mega Millions win in 2013 by two ticket holders: a woman in Georgia and a man in California
$590.5m: A Powerball jackpot won by an 84-year-old Florida woman