Trudeau denies corruption case wrongdoing
http://www.bbc.co.uk/news/world-us-canada-47362657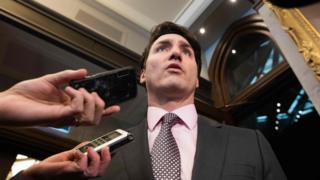 Canadian Prime Minister Justin Trudeau has denied wrongdoing after he tried to shield one of the country's biggest firms from a corruption trial.
Mr Trudeau said any lobbying by him or his inner circle for engineering giant SNC-Lavalin was done to protect jobs.
In explosive testimony, ex-Justice Minister Jody Wilson-Raybould said she faced "sustained" pressure to abandon prosecution of the Quebec-based firm.
Opposition Conservatives are calling on the Liberal PM to resign.
They are also demanding a public inquiry following Ms Wilson-Raybould's testimony on Wednesday before the Commons justice committee in Ottawa.
Speaking to reporters on Thursday morning, Mr Trudeau said he disagreed with her "characterisation" of events and maintained his staff followed the rules.
Speaking to journalists in Montreal on Thursday, the prime minster said he had full confidence in an inquiry by a parliamentary justice committee into the affair and in an investigation by the federal ethics commissioner, and would "participate fully" in that process.
Ms Wilson-Raybould told the justice committee on Wednesday she faced had attempts at interference and "veiled threats" from top government officials seeking a legal favour for the Montreal construction firm.
The former justice minister and attorney general said she and her staff faced four months of a "sustained" and "inappropriate effort" to push for a possible deferred prosecution agreement for the construction company.
That agreement would have allowed the firm to avoid a criminal trial and instead agree to alternative terms or conditions, like penalties or enhanced compliance measures.
Ms Wilson Raybould said that while some discussions about the ramifications of the decision were normal, the pressure went well beyond what was appropriate given her role as attorney general.
In Canada, an attorney general is supposed to act independently with respect of his or her prosecutorial function and decisions are not supposed to be politically motivated.
SNC-Lavalin is one of the world's largest engineering and construction companies and employs some 9,000 people in Canada.
A conviction on fraud and corruption charges could result in a decade-long ban on bidding on federal contracts, which would be a major financial hit for the firm.
It was formerly accused of illegal donations to the Liberal party, and has deep roots in the vote-rich province of Quebec, which is expected to be a battleground in this October's general election.
Ms Wilson-Raybould said that in various meetings, Mr Trudeau and senior staff repeatedly raised concerns about the possibility of job losses and potential political ramifications of a trial.
She said she made clear she was not prepared to help the company avoid a trial and that she believes it was why she was demoted in a Cabinet shuffle in January, which Mr Trudeau denies.
Opposition parties have been ramping up pressure on the prime minister and the Conservatives have said the Royal Canadian Mounted Police must immediately open an investigation.
Mr Trudeau said that to his knowledge no member of his staff has been contacted by the RCMP.
What's the reaction?
Political commentators suggest Ms Wilson-Raybould's remarks are deeply damaging for Mr Trudeau and the Liberals.
Writing in the Toronto Star, columnist Chantal Hebert says the prime minister was "already up to his neck in the SNC-Lavalin mess".
"On Wednesday, former attorney general Jody Wilson-Raybould pushed his head down further. It will be harder for the Liberal government to dig itself out of the deep hole she dug before the next campaign."
In the National Post, columnist Andrew Coyne said Ms Wilson-Raybould's testimony suggested "an attitude that appears to pervade this government: that the law is not an institution to be revered, but just another obstacle to get around, by whatever means necessary."
Columnist Patrick Lagace, writing in Montreal newspaper La Presse, said her remarks suggest that "for the Prime Minister and people acting on his orders, the rule of law and the independence of the Attorney General were at least negotiable".
In Maclean's magazine, Paul Wells suggests her remarks reveal a "sickeningly smug protection racket whose participants must have been astonished when she refused to play along".
What is happening with SNC–Lavalin?
The company and two of its subsidiaries face fraud and corruption charges in relation to about C$48m ($36m; £28m) in bribes it is alleged to have offered to Libyan officials between 2001-11.
The firm has openly lobbied to be allowed to enter into a remediation agreement instead of going to trial, saying it has cleaned house and changed its ways.
SNC-Lavalin and its supporters say it would be unfair to penalise the company as a whole and its thousands of employees for the wrongdoings of former executives.
Preliminary hearings have begun and the company says it will "vigorously defend itself" against the allegations.
This is not the first time SNC-Lavalin has found itself in trouble.
In 2013, the World Bank barred the firm and its affiliates for up to 10 years from bidding on contracts with the agency for "misconduct" in a bridge contract in Bangladesh, the longest debarment period ever handed down in a settlement.
In 2016, the agency that oversees Canadian federal elections said former executives had devised a scheme to illegally donate C$118,000 to the federal Liberals and Conservatives between 2004-11. The bulk of the funds went to the Liberal Party.