Vandals decapitate 800-year-old Crusader
http://www.bbc.co.uk/news/world-europe-47364081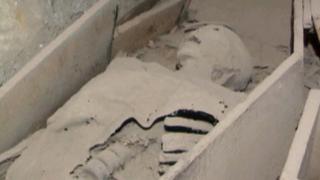 An 800-year-old "crusader" from a crypt in a Dublin church has been decapitated by vandals.
Archdeacon David Pierpoint told RTÉ the crusader's head has been "severed from his body and taken away".
The discovery was made as a tour guide was preparing to open the church for visitors on Monday afternoon.
Archdeacon Pierpoint said he was upset and disappointed that the church has been targeted again by vandals.
The crypt of St Michan's was vandalised in 1996.
Archdeacon Pierpoint said the incident is devastating for the parish and community.
He said initially he was "quite disgusted" when he saw what had happened, but now he is "just sad".
"It's a sad day for the church and a sad day for humanity that someone would do such a thing."
Who were the crusaders?
Crusaders fought in a series of religious wars known as the Crusades which were sanctioned by the Church in the medieval period.
The most commonly known of the crusades were campaigns in the eastern Mediterranean aimed at recovering the Holy Land from Muslim rule.
There were seven major crusades as well as many less significant ones.
Tours of the site are being cancelled for the foreseeable future. Last year around 27,000 people visited the church.
In a statement, the Church of Ireland said the crypt has been badly damaged and several of the mummies, including the 400-year-old remains of a nun, had been desecrated in the incident.
The crusader's body was turned over and his head was removed.
Archdeacon Pierpoint said a solid steel internal gate was also taken but the immediate concern is securing the vaults.
There are also concerns the remains will disintegrate in the open air as the conditions in the crypt keep them preserved.
Gardaí are examining CCTV footage from the church.
'Football with heads'
The crypt of St Michan's was previously vandalised in 1996, when a group of teenagers broke in and took a number of mummified bodies from their coffins.
"They dragged them onto the ground and seemed to be playing football with their heads," Archdeacon Pierpoint told the Irish Times.
He added: "Thankfully at that time the guards did their jobs extremely well and they caught the perpetrators."
Following the 1996 break-in, the crypts were closed to the public for a week, while the bodies were recovered.