Three Tory MPs join breakaway group
http://www.bbc.co.uk/news/uk-politics-47306022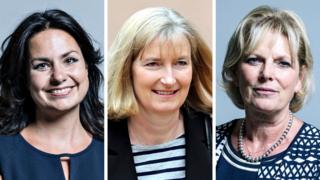 Three Tory MPs have resigned from the party to join an independent group, set up by former Labour MPs.
Anna Soubry, Sarah Wollaston and Heidi Allen wrote a joint letter to Theresa May to confirm their departure.
The PM said she was "saddened", but her party would "always offer… decent, moderate and patriotic politics".
The three said Brexit had "redefined the Conservative Party – undoing all the efforts to modernise it" and there had been a "shift to the right".
The pro-Remain trio will join the new Independent Group – made up of eight Labour MPs who resigned from their party over its handling of Brexit and anti-Semitism – saying it represented "the centre ground of British politics".
The group now has more MPs in Parliament than the Democratic Unionist Party and equals the number of Liberal Democrats.
In the letter, the former Tory MPs said the party was "in the grip" of the DUP and the pro-Leave European Research Group over Brexit, and said there had been a "dismal failure" to stand up to them.
They wrote: "We find it unconscionable that a party, once trusted on the economy, more than any other, is now recklessly marching the country to the cliff edge of no deal."
The three MPs said they will support the government on areas such as the economy, security and improvements to public services, but they felt "honour bound to put our constituents' and country's interests first" over Brexit.
They told Mrs May: "We voted for you as leader because we believed you were committed to a moderate, open-hearted Conservative Party.
"Sadly, the Conservative Party has increasingly abandoned these principles and values with a shift to the right of British politics."
Theresa May said the UK's membership of the EU had been "a source of disagreement both in our party and our country for a long time", so "ending that membership after four decades was never going to be easy".
But, she added: "By delivering on our manifesto commitment and implementing the decision of the British people we are doing the right thing for our country. And in doing so, we can move forward together towards a brighter future."
The party's deputy chairman, Tory MP James Cleverly, told BBC Radio 5 Live that the resignations were "very sad and disappointing".