Jewish graves desecrated in east France
http://www.bbc.co.uk/news/world-europe-47289129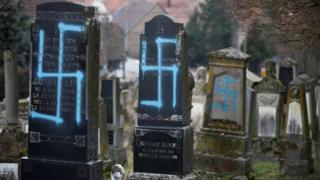 Some 80 graves at a Jewish cemetery in eastern France have been desecrated with swastikas, local officials say.
The damage was discovered on Tuesday, ahead of nationwide marches against a rise in anti-Semitic attacks.
French President Emmanuel Macron visited the cemetery, in a village near Strasbourg, telling community leaders: ""It's important for me to be here with you today,"
France has the biggest Jewish community in Europe, about 550,000 people.
Statistics published last week showed a rise of 74% in the number of anti-Semitic attacks in France, from 311 in 2017 to 541 in 2018.
What happened?
Local authorities say the damage was discovered on Tuesday morning in Quatzenheim, a village in Alsace close to France's border with Germany.
Nazi symbols and anti-Semitic slogans were spray-painted on the graves.
One tombstone was defaced with the words "Elsässischen Schwarzen Wolfe" ("Black Alsatian Wolves"), the name of a militant far-right group active in the 1970s and 1980s.
The group burned down a museum at Natzweiler-Struthof – a former Nazi death camp – in 1976.
Isaac Herzog, chairman of the quasi-governmental Jewish Agency – which deals with Jewish immigration to Israel – called the vandalism "another indication of the rampant anti-Semitism spreading throughout Europe, threatening Jews in the streets."
"It's time for governments to wake up," Mr Herzog tweeted.
The attack came ahead of dozens of rallies against anti-Semitism scheduled to take place across France later on Tuesday.
The demonstrations are being organised by 14 political parties and are expected to take place in as many as French 60 cities.
Is anti-Semitism on the rise in France?
Several high-profile recent incidents have brought the issue of anti-Semitism into focus in France.
Post-boxes featuring a Holocaust survivor's portrait were daubed with swastikas, while a Jewish bakery in central Paris had the German word for Jews ("Juden") spray-painted on its window.
Last weekend, police also stepped in to protect the philosopher, Alain Finkielkraut, after he was reportedly bombarded with anti-Jewish taunts by a group of "yellow vest" protesters in Paris.
Interior Minister Christophe Castaner has warned that anti-Semitism is "spreading like poison" in the country.
Jewish groups have also been warning that a rising far right across Europe has been promoting anti-Semitism and hatred of other minorities.
Crime data from Germany released last week revealed that anti-Semitic offences had increased by 10% over the past year – including a 60% rise in physical attacks.
Attacks have been blamed on both the far right and Islamists.
In response to the latest incident at Quatzenheim cemetery, Israel's Immigration Minister Yoav Gallant called on French Jews to "come home" to Israel.
According to Israeli government statistics, 2,679 Jews from France immigrated to Israel last year – down 15% from 2017.