IS teenager Begum damaged, says lawyer
http://www.bbc.co.uk/news/uk-47276572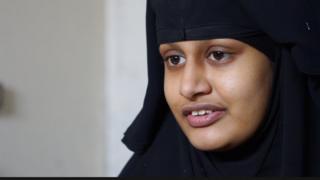 Shamima Begum – the UK schoolgirl who joined the Islamic State group in Syria but now wants to come home – is "damaged" and will need mental health support, her family's lawyer has said.
Tasnime Akunjee also told the BBC that her family are prepared to raise her newborn baby "away from IS thinking".
Ms Begum, now 19, left Bethnal Green four years ago aged 15.
Speaking to the BBC on Monday, she said she was ready to go to prison if she is allowed to return to the UK.
Ms Begum was found in a Syrian refugee camp last week and has since given birth to a boy. She is legally a UK citizen and wants to return.
On Monday, lawyer Mr Akunjee told BBC Breakfast that Ms Begum had still not been in contact with her family.
He said the family are trying to get the government to provide travel documents for Ms Begum and her newborn son – who he said has a right to British citizenship.
"Her family will always want to bring their child home and bring her to safety, and particularly the innocent grandchild that now is in existence," said Mr Akunjee.
"The family fully expect her to be quite damaged and so they would want an assessment around Shamima, and also as much help around her mental health and recalibration effectively into normal thinking as possible.
"In terms of any criminal proceedings, that's something she invariably will face depending on what evidence is against her."
He added: "Clearly the family are most concerned not just to get her away [from IS] now but, as of yesterday, to make sure their grandchild – her child – is not influenced by that sort of thinking."
---
Begum 'didn't know children died in Manchester attack'
By BBC Middle East Correspondent Quentin Sommerville
In an interview with BBC News, IS supporter Shamima Begum admits she was a poster girl for IS recruitment, apologises to Britain for joining IS and says she is ready to face prison if she is allowed to return.
She still has sympathy for the group and equated its crimes to coalition airstrikes against the extremist group.
She said that, despite being only 15 years old when she left Britain to join IS, she knew what she was doing and was capable of making her own decisions.
Throughout the interview she held her two-day old son Jarrar. He's named after her first son who died while she was in the caliphate. She says she would have let her first son become an IS fighter. Now she wants her boy "to be British".
Ms Begum claims that her family never sent her money, but that her Dutch jihadist fighter husband, Yago Riedijk, received money from his family while the couple lived under IS rule.
She says that she viewed propaganda videos from IS and al-Qaeda linked groups. She watched videos of the murders of British hostages, but when asked, said she didn't know the names of any of the victims.
And she says she knew of the IS-inspired attacks in Manchester and elsewhere, but hadn't realised women and children were killed.
---
Ms Begum left Bethnal Green in February 2015 with two other schoolgirls, Kadiza Sultana and Amira Abase.
Kadiza is thought to have died when a house was blown up, and the fate of Amira is unknown.
Lawyer Mr Akunjee also called for an "urgent inquiry" into how Ms Begum and the other schoolgirls were able to travel to Syria.
Ms Begum was tracked down by the Times newspaper last week and was found to be nine months pregnant.
At the weekend, it was reported that she had given birth.
In an interview with Sky News, she said: "People should have sympathy towards me for everything I've been through."
Ms Begum said she escaped from Baghuz, Islamic State's last stronghold in eastern Syria, two weeks ago.
Her husband, a Dutch convert to Islam, is thought to have surrendered to a group of Syrian fighters.
There has been widespread debate over whether Ms Begum should be stopped from returning to the UK.
Under international law, the UK is obliged to let back in a Briton without the claim to another nationality.
But the government does not have consular staff in Syria, and says it will not risk any lives to help Britons who have joined a banned terrorist group.
If Ms Begum is able to reach a British consulate in a recognised country, it is thought security chiefs could "manage" her return.
Home Secretary Sajid Javid wrote a comment piece in the Sunday Times and said he would "not hesitate" to prevent the return of Britons who travelled to join IS.
'Difficult to know intentions'
Meanwhile, Met Police commissioner Cressida Dick has said it is "incredibly complicated" to stop IS brides.
She said police try to stop people travelling when officers know they are "travelling with ill-intent".
Ms Dick was on ITV's Good Morning Britain where she responded to a report in the Times newspaper claiming that, in a separate case, a schoolgirl who was stopped as she was about to catch a flight to join Islamic State in December 2014 was never prosecuted.
Although that schoolgirl was arrested, another girl called Sharmeena Begum – who is not related to Shamina Begum – was at the airport at the same time and was not prevented from taking the flight, the Times says.
Ms Dick said: "I think the question that's being asked is whether we were able to pass on sufficient information and understand well enough what these three girls were intending.
"The truth of the matter is it's incredibly hard to know what somebody's intending.
"The moment we informed the school about the girl who came off the flight, we did not know these girls were intending that. They were merely witnesses and we were talking to them as witnesses. These things are incredibly complicated."