Brother of Syria war pair stabbed to death
http://www.bbc.co.uk/news/uk-england-sussex-47270417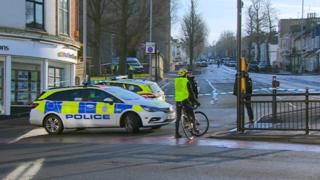 A man found stabbed to death in a car was the brother of two young men who died fighting in Syria, police said.
Abdul Deghayes, 22, was a passenger in a silver VW Polo that collided with other cars in Brighton on Saturday. He died as a result of his stab wounds.
Mr Deghayes was the twin of Abdullah, 18, and brother of Jaffar, 17, of Brighton.
The pair were said to have become radicalised and died fighting with Islamists in Syria in 2014.
Mr Deghayes, who was jailed in 2017 for drug dealing, died at the Royal Sussex County Hospital following the crash at 21:30 GMT on Saturday near St Joseph's church, Elm Grove.
'Bleeding heavily'
His father, Abubaker, said his son had been stabbed in the back and thigh.
He said: "He died this morning. He was found in a car bleeding heavily. Emergency services revived him and took him to hospital, but he couldn't pull through and died at 6.30am.
"As a family we are in mourning. It is a great shock.
"Adul was very popular with his friends. He loved Brighton a lot. He was a cheerful guy.
"I don't know who did it but the police are investigating. I am just shocked to be honest. You think you've seen everything but no – things keep happening."
Sussex Police has appealed for witnesses to the stabbing and said it had "active lines of inquiry" to find the driver of the silver Polo, who fled on foot after it crashed.
Second brother 'dies in Syria'
'Chances missed' to stop Syria deaths
Mother's tribute to 'naive boy'
Ch Insp Andy Bennett said there had been a disturbance in Wellington Road, Brighton, where it is believed Mr Deghayes was stabbed.
Mr Deghayes then got into the car, which was driven a short distance to Elm Grove before it collided with other cars.
Ch Insp Bennett added: "At this stage of the investigation there is nothing to suggest that this is a hate crime but we are keeping an open mind on the motive at this time."
The scene is close to the junction with Lewes Road, near to The Level park, and at that time of the evening would have been very busy.
An area of Elm Grove remained cordoned off on Sunday morning, but police were expecting the road to reopen fully later.
Mr Deghayes' twin and his younger brother fought for an Al-Qaeda-affiliated jihadist group in Syria, following in the footsteps of their older brother, Amer.
It is believed Amer is still alive in Syria, having left Sussex in 2013.
When Abdullah Deghayes was killed, his father publicly called him a martyr who had died fighting the "dictator", Bashar al-Assad.