PM defeated over Brexit strategy
http://www.bbc.co.uk/news/uk-politics-47245992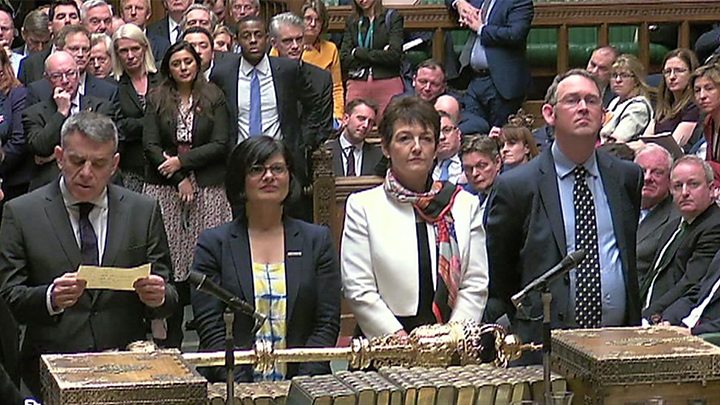 Theresa May has suffered a fresh defeat in a Commons vote on her approach to Brexit by 303 to 258.
Labour leader Jeremy Corbyn has called on the prime minister – who did not take part in the debate – to "admit her Brexit strategy has failed".
Tory Brexiteer rebels abstained, saying the government's motion implied a no-deal Brexit would be ruled out.
Ministers said that was not the case but defeat would make life more difficult for the PM in EU talks.
Live: Reaction to May's Brexit defeat
Downing Street blamed Mr Corbyn for the defeat, saying he had "yet again put partisan considerations ahead of the national interest" by voting against the government's motion.
A No 10 spokesman said the PM would continue to seek legally-binding changes to the controversial Irish backstop, as MPs had instructed her to do in a Commons vote on 29 January.
"While we didn't secure the support of the Commons this evening, the prime minister continues to believe, and the debate itself indicated, that far from objecting to securing changes to the backstop that will allow us to leave with a deal, there was a concern from some Conservative colleagues about taking no deal off the table at this stage," he added.
---
Analysis
By BBC Assistant Political Editor Norman Smith
The prime minister this evening suffered another perilous and decisive Brexit defeat – despite frantic last minute attempts to win over disgruntled Tory Brexiteers.
A defeat which, while it has no legal force, seems set to shatter the uneasy truce on the Tory backbenches.
All day, talks between Number 10 and Mrs May's backbench opponents have rumbled on, with Brexiteers unhappy that the government appeared to be ruling out a no-deal Brexit.
Number 10 warned hardline Leavers that defeat for Mrs May would scupper attempts to negotiate the revised Brexit deal they wanted. All seemingly to no avail.
---
The latest Commons defeat came after the pro-Brexit Tory European Research Group announced they had taken a "collective decision" to abstain.
Members of the group, which is chaired by Jacob Rees-Mogg said supporting the motion would have amounted to an endorsement of efforts to rule out a no-deal Brexit.
Downing Street had earlier warned that defeat could damage the prime minister's negotiating position, as she seeks to make changes to the controversial backstop "insurance policy" in her deal to avoid customs checks between Northern Ireland and the Republic of Ireland.
Steve Baker, deputy chairman of the ERG told BBC News the group still supported efforts to get "alternative arrangements" to replace the controversial Irish backstop plan, describing Mrs May's defeat as a "storm in a teacup".
Commenting on Mrs May's latest defeat, Jeremy Corbyn said: "Two weeks ago, the prime minister told Parliament that her new approach could 'secure a substantial and sustainable majority' in Parliament.
"However, tonight's vote has proved that there is no majority for the prime minister's course of action.
"This can't go on. The government can't keep ignoring Parliament or ploughing on towards 29 March without a coherent plan."
He added that the PM needed to admit her strategy had failed "and come back with a proposal that can truly command majority support in Parliament".
Mrs May has promised MPs a final, decisive vote on her Brexit deal with the EU when she has secured the changes to it that she believes MPs want to see.
She believes she can secure a Commons majority for the deal if she can get legally-binding changes to the backstop clause – something the EU has consistently ruled out.
A Labour amendment calling for the final, meaningful vote to be held before 27 February was earlier defeated by 16 votes.
An SNP amendment, which was also backed by the Liberal Democrats, calling for Britain's departure from the EU on 29 March to be delayed by three months, was defeated by 93 votes to 315, after most Labour MPs abstained.