May to ask MPs for more time on Brexit
http://www.bbc.co.uk/news/uk-47187491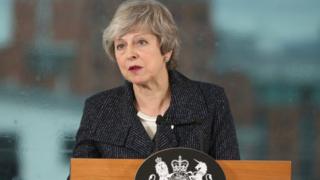 Prime Minister Theresa May will ask MPs to give her more time to secure changes to the controversial part of her Brexit deal – the Northern Irish backstop.
Mrs May is due to report back to MPs this week, after trying to persuade the EU to make last-minute changes.
According to the BBC's Iain Watson, the PM will promise Parliament another vote on other Brexit options if a deal is still not ready by the end of February.
Labour wants to hold Mrs May to her word and make sure the vote is held.
The shadow Brexit secretary, Sir Keir Starmer, has said Labour has drafted an amendment which, if passed this week, would guarantee a vote by the end of the month.
He accused the prime minister of "running down the clock" so that Parliament will only have a choice between her Brexit deal, and a no-deal exit.
There are fewer than 50 days until Brexit. The law is already in place which means the UK will leave the EU on 29 March 2019.
Mrs May's Brexit deal – which she spent months negotiating and had agreed with the EU – covers the terms of the UK's divorce and the framework of future relations.
But it was rejected by the UK Parliament and if it is not approved by Brexit day on 29 March, the default position would be a no-deal Brexit.
Last month, Parliament voted in favour of an amendment that supported most of the PM's deal but called for backstop – which is a last-resort option to prevent a hard border in Ireland – to be replaced with "alternative arrangements". The prime minister is now in talks with Brussels to seek these changes to the backstop.
But if no changes are agreed by Wednesday, which is likely, Mrs May will address MPs and say more time is needed. She will then table a "neutral motion" for debate.
On Thursday, MPs will debate the motion – and potentially any amendments, such as Labour's – in a series of parliamentary votes.
According to the BBC's political correspondent Iain Watson, some ministers have considered resigning so they could support backbench proposals to force Mrs May to delay Brexit.
However Downing Street's message to them is not to do anything hasty. To reassure them, Downing Street is promising that if there is still no deal by February 27, MPs will have another opportunity to table amendments setting out alternative options.
These options could include extending article 50 to allow more time to reach an agreement with Brussels.
A number of government ministers will also be meeting their counterparts across the continent this week, in order to underline Mrs May's determination to achieve a deal.
'Pretending to make progress'
Labour's Sir Keir Starmer has told the Sunday Times that Labour plans to force another vote on her deal anyway.
He accused the prime minister of "pretending to make progress" over issues such as the Irish border.
He said that Mrs May intends to return to Parliament after the 21-22 March European summit – with just one week before Brexit – and offer MPs a choice between her deal and a no-deal Brexit.
"We can't allow that to happen. There needs to be a day when Parliament says 'that's it, enough is enough'," Sir Keir said.
Sir Keir called the prime minister's approach "reckless" and "blinkered", blaming "tunnel vision" for the defeat of her Brexit deal by a record 230 votes in January.
Labour intends to put forward an amendment that will require the prime minister to hold a new vote on her deal by 26 February.
He said: "We have got to put a hard stop into this running down the clock. And that's what we want to do this week."
Meanwhile, former Prime Minister Tony Blair – who wanted the UK to stay in the EU – has told Sky News that a no-deal exit could be "devastating" for Northern Ireland's peace process.
He told the Sophy Ridge on Sunday programme that it would lead to a "very hard border" on the island of Ireland and is contrary to the Good Friday Agreement, the peace deal he helped negotiate which brought an end to The Troubles.
Critics of the backstop in Mrs May's current deal say they could tie the UK to EU rules indefinitely or mean Northern Ireland ends up under a different system to the rest of the UK.
But the Irish government and the EU have repeatedly rejected calls for changes.