May to EU: Back changes to Brexit deal
http://www.bbc.co.uk/news/uk-politics-47152035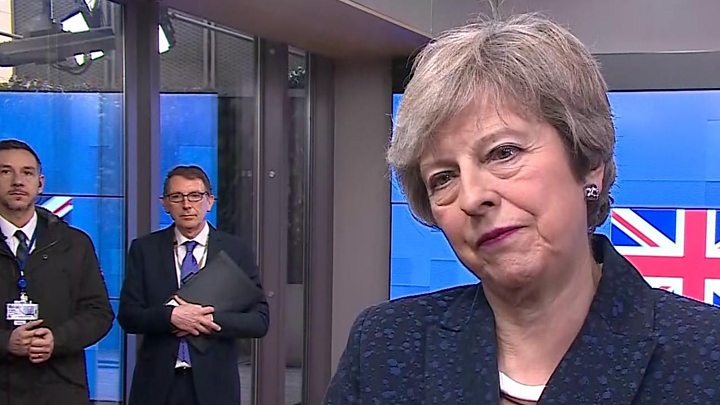 Theresa May has told EU leaders she can get the Brexit deal through Parliament if they give her legally-binding changes to it.
The UK prime minister – who also vowed to deliver Brexit "on time" – was speaking after a series of meetings with top EU officials in Brussels.
European Commission President Jean-Claude Juncker again ruled out the kind of changes Mrs May wants to see.
But the two sides agreed to further talks to break the deadlock.
Mrs May said she had also spoken to European Council President Donald Tusk about his comments on Wednesday about there being a "special place in hell" for those who campaigned for Brexit without a plan to deliver it safely.
She said Mr Tusk's language "was not helpful" and had "caused widespread dismay in the United Kingdom".
Mrs May said she had told him he should be "focusing" on working with the UK to get a Brexit deal.
Mr Tusk tweeted that there was "no breakthrough in sight" following his talks with the UK prime minister.
Mrs May said she had "set out very clearly the position from Parliament that we must have legally binding changes to the withdrawal agreement in order to deal with Parliament's concerns over the backstop".
That, "together with the other work that we're doing on workers' rights and other issues, will deliver a stable majority in Parliament," she said.
Mr Juncker "underlined that the EU27 will not reopen the withdrawal agreement" in their talks, according to a joint statement released by the two sides.
But he "expressed his openness" to adding words to the non-binding future relationship document – that also has to be backed by MPs – to be "more ambitious in terms of content and speed".
---
Did anything change? Not that much.
But for Downing Street, this has not been a pointless stop-off in the almost never-ending Brexit adventure.
Because, while there hasn't been a breakthrough, the EU has agreed to more talks, which at least opens up the possibility of discussing the changes to the troubled backstop that has caused such political difficulty.
It might not sound like much, but "we can talk", is at least a different message to "this is over" .
---
Meanwhile, Brexit Secretary Steve Barclay and EU negotiator Michel Barnier will hold talks in Strasbourg on Monday, as the EU and UK Brexit negotiating teams discuss proposed changes to the deal.
Downing Street said these talks would cover "alternative arrangements" for the Irish border, as called for by MPs in a vote last week.
A spokeswoman said other UK ministers, such as Attorney General Geoffrey Cox could be involved.
Mr Cox is "working on working on possible ways in which legal texts could be drafted, that gave effect to the objective we want," Cabinet Office Minister David Lidington told the BBC.
Mrs May and Mr Juncker will meet again before the end of February, to review progress.
The prime minister is expected to put the deal to a vote in the Commons towards the end of February.
Labour's fresh offer to May
Jeremy Corbyn has written to the prime minister setting out his party's price for supporting a Brexit deal and to offer talks to secure "a sensible agreement that can win the support of Parliament and bring the country together".
The Labour leader's five demands include a "permanent and comprehensive UK-wide customs union" aligned with the EU's customs rules but with an agreement "that includes a UK say on future EU trade deals".
Mr Corbyn also wants close alignment with the EU single market and "dynamic alignment on rights and protections" for workers so that UK standards do not fall behind those of the EU.
He also proposes participation in EU agencies and funding programmes, and agreements on security and keeping access to the European Arrest Warrant.
The letter does not mention previous demands that any deal must deliver the "exact same benefits" that membership of the single market and customs union currently does – effectively scrapping the party's "six tests" that had been its Brexit policy.
The BBC's Political Editor Laura Kuenssberg said Labour's shadow Brexit secretary Sir Keir Starmer would be meeting Cabinet Office Minister David Lidington to discuss the proposals.
But the move was met with dismay by Labour members of the People's Vote campaign for another EU referendum, who accused Mr Corbyn of going back on his commitment, made at the party's conference, to back a public vote if he can't force a general election.
Labour MP Owen Smith, who made a failed leadership bid in 2016, has told the BBC he and others were thinking of quitting the party over Mr Corbyn's Brexit stance.
But Labour's Stephen Kinnock, who backs the "Norway Plus" model of a close economic partnership with the EU, welcomed Mr Corbyn's letter, tweeting: "This can break the deadlock."
Mr Lidington said he and Brexit Secretary Steve Barclay would be willing to discuss Labour's proposals with Sir Keir and other frontbenchers.
But he said Labour's call to have a say in trade deals while being in a customs union with the EU was "wishful thinking", because Brussels had ruled it out.
The European Parliament's Brexit co-ordinator Guy Verhofstadt welcomed Mr Corbyn's proposals, saying "the broadest possible majority" was needed for a Brexit deal in the UK and "cross-party co-operation is the way forward".
It was also backed by Conservative MP Sir Oliver Letwin, who wants to see the UK in a Norway-style relationship with the EU after Brexit.
---
Where are we in the Brexit process?
The UK is due to leave the EU at 23:00 GMT on Friday 29 March, when the two-year time limit on withdrawal negotiations enforced by the Article 50 process expires.
In January, MPs overwhelmingly rejected the withdrawal deal that the government had negotiated with the EU, backing an amendment for the government to seek "alternative arrangements" to the backstop.
The backstop is an "insurance policy" designed to avoid "under all circumstances" the return of customs checkpoints between Northern Ireland and the Irish Republic after Brexit.
Many fear creating physical infrastructure along the border could threaten the peace process.
But the Democratic Unionist Party and Brexiteers believe the proposed temporary single customs arrangement could threaten the integrity of the UK, leaving it bound by EU rules if no trade deal is agreed.