Briton held in UAE in football shirt row
http://www.bbc.co.uk/news/uk-47135629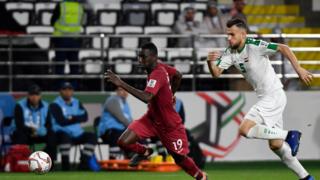 A Briton has been arrested and detained in the United Arab Emirates after reportedly being assaulted when he wore a Qatar football team shirt to a match.
Ali Issa Ahmad, 26, from Wolverhampton, is said to have been unaware of a law against "showing sympathy" for Qatar – brought in amid a diplomatic dispute.
His friend says he was held after telling police he had been attacked.
The UAE embassy in London said Mr Ahmad has been charged with wasting police time and making false statements.
Responding to earlier media reports, a UAE official said he was "categorically not arrested for wearing a Qatar football shirt".
The Foreign Office said it is providing assistance to a British man and is in touch with the UAE authorities.
The UAE and four other countries in the region are currently engaged in a political and diplomatic stand-off with Qatar after they accused the state of supporting radical and Islamist groups.
On its website, the Foreign Office warns travellers to the UAE of a June 2017 announcement "that showing sympathy for Qatar on social media or by any other means of communication is an offence.
"Offenders could be imprisoned and subject to a substantial fine".
'Loved sport'
Mr Ahmad is said to have travelled to the UAE for a holiday. He was arrested after watching Qatar play Iraq in an Asian Cup match in Abu Dhabi on 22 January.
Speaking to the BBC World Service programme Newshour, his friend Amer Lokie said Mr Ahmad had called him from a police station on 30 January to tell him about the arrest.
Mr Lokie said: "After he left the stadium he was followed by a couple of people and they assaulted him."
Mr Ahmad had been wearing a Qatar football shirt and was holding another one in his hands, he said.
"They took away his T-shirt and he went home. Afterwards he went back to police station to report the assault and they held him," Mr Lokie said.
Asked whether Mr Ahmad had indicated whether the people who attacked him were members of the public, police or security officials, Mr Lokie said: "I was trying to ask him to clarify but he could not clarify because his time was limited."
"He was just a person who loved sport so much," Mr Lokie added. " I don't think he knew he could get into problems for wearing a T-shirt or supporting a particular team."
'Self-inflicted injuries'
The UAE embassy in London initially said it was unable to comment specifically on the case, adding "allegations of human rights violations are taken extremely seriously and will be thoroughly investigated".
In a later statement issued through the embassy, a UAE official said Mr Ahmad was a dual Sudanese-British citizen.
The official said Mr Ahmad had gone to a police station to say he had been harassed and beaten up by local football fans for cheering the Qatar team.
"Police took him to hospital where a doctor who examined him, concluded that his injuries were inconsistent with his account of events and appeared to be self-inflicted," the official said.
They said Mr Ahmad was charged on 24 January, adding: "We are advised that he has since admitted those offences [wasting police time and making false statements] and will now be processed through the UAE courts."
The tiny oil- and gas-rich Qatar has been cut off by some of its powerful Arab neighbours – including the UAE – over its alleged support for terrorism.
The continuing rift meant there were very few Qatar fans in attendance during its Asian Cup matches.
When Qatar knocked the UAE out in the semi-final, objects and shoes were thrown at their players.
Qatar went on to win the tournament, defeating Japan 3-1 in the final on 1 February.