US targets corrupt Venezuela oil firm
http://www.bbc.co.uk/news/world-us-canada-47036491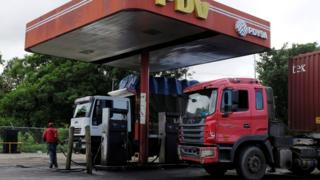 The US has imposed sanctions on Venezuela's state-owned oil firm PDVSA and urged the country's military to accept a peaceful transfer of power.
National Security Adviser John Bolton said President Nicolás Maduro and his allies could "no longer loot the assets of the Venezuelan people".
Efforts by the opposition to unseat Mr Maduro have increased in recent days.
The US and more than 20 countries have recognised opposition leader Juan Guaidó as interim president.
Treasury Secretary Steven Mnuchin said the proceeds of the purchase of Venezuelan oil would now be withheld from Mr Maduro's government, but the company could avoid sanctions by recognising Mr Guaidó.
Venezuela is heavily reliant on the US for its oil revenue – sending 41% of its oil exports there – while it remains in the top four crude oil suppliers to the US.
In other developments:
Mr Guaidó says he is ordering Venezuela's Congress to name new heads of the PDVSA and Citgo, as he aims to take control of the country's assets
The government has devalued its currency, the bolivar, by almost 35% to align it with the black market exchange rate
What is the US calling for?
Mr Bolton and Mr Mnuchin said the sanctions were intended to prevent Mr Maduro's government from taking funds from the state oil company.
"We have continued to expose the corruption of Maduro and his cronies and today's action ensures they can no longer loot the assets of the Venezuelan people," Mr Bolton said.
The US action blocks all PDVSA property and interests subject to US jurisdiction, and prohibits US citizens from engaging in transactions with them.
But Mr Mnuchin said US-based subsidiary Citgo could continue operations if its earnings were deposited in a blocked account in the US.
Mr Bolton also urged Venezuela's military to "accept the peaceful, democratic and constitutional transfer of power".
Who supports whom?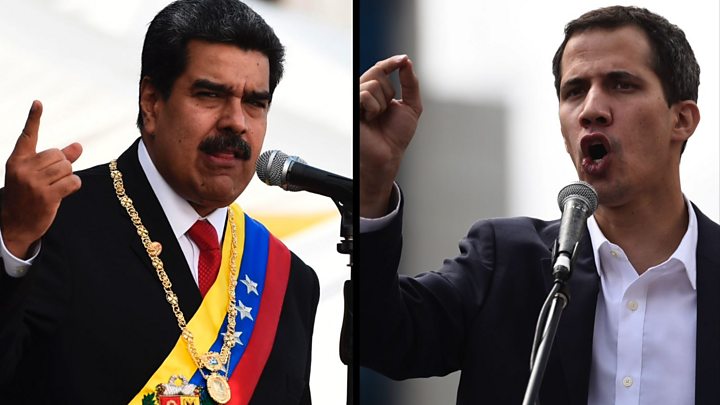 Russia, China, Mexico and Turkey have publicly backed Mr Maduro.
At a UN Security Council meeting on Saturday, Russia accused Washington of plotting a coup.
However, more than a dozen Latin American countries and Canada have backed Mr Guaidó as president.
And on Saturday, several European countries including Spain, Germany, France and the UK said they would recognise Mr Guaidó as president if elections were not called within eight days.
Greece's left-wing governing party has backed Mr Maduro.
Why is Maduro so unpopular?
Venezuela is in economic crisis – hyperinflation and shortages of basic essentials have hit its population hard and caused millions to flee.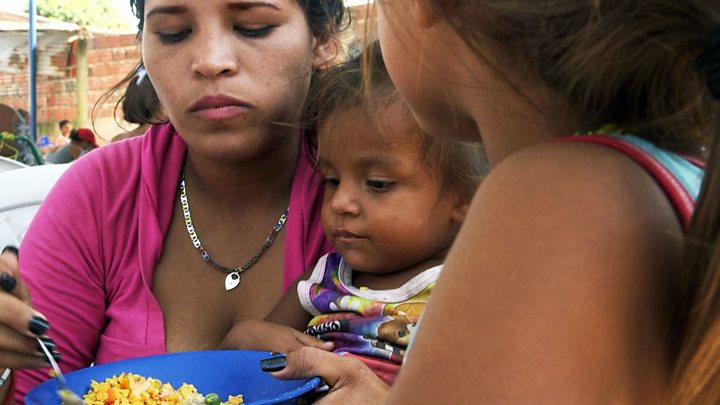 Mr Maduro has faced internal opposition and ongoing international criticism for his human rights record and handling of the economy.
He was re-elected to a second term last year – but the elections were controversial, with many opposition candidates barred from running or jailed.
Supreme Court judge Christian Zerpa fled to the US in January, telling journalists the election "was not free and competitive".
---
Are you in Venezuela? What has life been like in the country? Tell us your story by emailing haveyoursay@bbc.co.uk
Please include a contact number if you are willing to speak to a BBC journalist. You can also contact us in the following ways: