US charges Chinas Huawei with fraud
http://www.bbc.co.uk/news/world-us-canada-47036515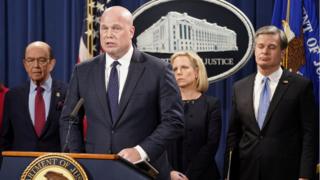 The US Justice Department has filed a host of criminal charges against Chinese telecoms giant Huawei and its chief financial officer, Meng Wanzhou.
Among the charges are accusations of bank and wire fraud, obstruction of justice and theft of technology from US company T Mobile.
Ms Meng was arrested in Canada last month on a US request for allegedly evading sanctions on Iran.
The case has badly strained relations between China, Canada and the US.
Both Ms Meng and Huawei deny the allegations.
What are the charges?
The indictment alleges Huawei misled the US and a global bank about its relationship with two subsidiaries, Huawei Device USA and Skycom Tech, to conduct business with Iran.
A second case alleges the company stole technology from T Mobile used to test smart phone durability, as well as obstructing justice and committing wire fraud.
The T-Mobile tech, known as Tappy, mimicked human fingers to test phones.
Huawei says the two companies settled their dispute over the technology in 2017.
What's the context?
Huawei is one of the largest telecommunications equipment and services providers in the world, recently passing Apple to become the second-biggest smartphone maker after Samsung.
But the US and other western nations have been concerned that the Chinese government could use Huawei's technology to expand its spying ability, although the firm insists there is no government control.
The arrest of Ms Meng, the daughter of Huawei's founder, infuriated China.
She was arrested on 1 December in Canada's western city of Vancouver at the request of the US.
She was later granted a C$10m (£5.7m; $7.6m) bail by a local court. But she is under surveillance 24 hours a day and must wear an electronic ankle tag.
The US charges come the day after Canada fired its ambassador to China, days after he publicly said the US extradition request for Ms Meng was flawed.
Aren't US-China ties already strained?
Yes. Also on Monday, it was announced that top Chinese officials are due in Washington this week to discuss ending a trade war between the two countries.
US commerce secretary Wilbur Ross stated that the Huawei charges were "wholly separate" from ongoing trade negotiations with China.
President Donald Trump's administration has imposed tariffs totalling more than $250 billion (£190bn) of Chinese goods, prompting Beijing to respond in kind.
Both countries agreed last month to suspend new tariffs for 90 days to allow talks.