Trump official mocked over shutdown remark
http://www.bbc.co.uk/news/world-us-canada-46999929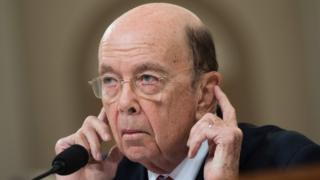 US commerce secretary Wilbur Ross has attracted scorn for suggesting workers affected by the ongoing government shutdown should take out bank loans.
"True, the people might have to pay a little bit of interest," he told broadcaster CNBC. "But the idea that it's 'paycheck or zero' is not a really valid idea."
Critics derided the multimillionaire for being out of touch.
About 800,000 federal workers will miss another payday on Friday.
The US government shutdown is now the longest in history and there is no clear end in sight after the Senate rejected two bills aimed at ending the impasse.
President Donald Trump is demanding $5.7bn (£4.4bn) for a proposed southern border wall which the Democratic Party refuse to fund, saying it would be ineffective and immoral.
In the interview, Mr Ross seemed puzzled that federal workers who have been without pay since 18 December would go to food banks.
Borrowing from a bank is "in effect federally guaranteed", he said. There are some "very, very low interest rate loans" on offer, he added.
Mr Ross also downplayed the number of people affected by the prolonged shutdown, saying it is "not like it's a gigantic number overall".
"Put it in perspective: you're talking about 800,000 workers, and while I feel sorry for individuals who have hardship cases, 800,000 workers if they never got their pay… you're talking about a third of a percent on our GDP," he said.
Senate minority leader Chuck Schumer called the comments "appalling", and said they were "the 21st Century equivalent of 'let them eat cake'".
Marie Antoinette, wife of French King Louis XVI and the last queen before the French Revolution in 1789, is thought to have used the phrase when she learnt that people had no bread.
Social media users quickly picked up on Mr Ross's comments, deriding the commerce secretary for being "out of touch".
The commerce secretary has been accused before of being out of touch.
Mr Ross reportedly wore a pair of $600 slippers in 2017, customised with the Commerce Department logo.
An Associated Press poll published on Thursday suggests just 34% of Americans support Mr Trump overall, down from 42% a month earlier – suggesting the shutdown may have affected his popularity.
However, some on social media attacked Chuck Schumer and the Democratic Party, saying they were responsible for the US shutdown in the first place.
President Trump defended his culture secretary, in remarks which also drew criticism.
While telling reporters he had not heard Mr Ross's words, and suggesting he maybe "should have said it differently", Mr Trump said people should try to "work along" with banks and grocery stores during the shutdown.
The furore comes after the president's daughter-in-law Lara Trump said the shutdown was "so much bigger than any one person" in an interview on Wednesday.
"It's a little bit of pain, but it's going to be for the future of our country," the president's campaign adviser said.