Democrats ask Trump to call off speech
http://www.bbc.co.uk/news/world-us-canada-46872419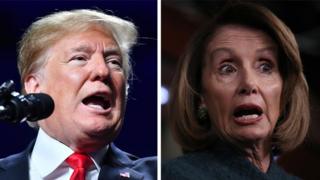 Democrats have asked President Donald Trump to postpone a speech to Congress, arguing security cannot be guaranteed due to the government shutdown.
Speaker of the House Nancy Pelosi said in a letter to Mr Trump that he should deliver the speech in writing instead unless federal agencies reopen.
Mr Trump is due to address Congress for the annual State of the Union speech on 29 January.
The US government is partially shut due to a row over border security.
The Republican president is demanding $5.7bn (£4.4bn) of congressional funding to build a wall on the US-Mexico border, but newly empowered Democrats have refused.
What did Pelosi say?
In Wednesday's letter, Mrs Pelosi cited the "extraordinary demands presented" by the State of the Union speech as a reason for postponing.
She wrote: "Both the US Secret Service and the Department of Homeland Security have not been funded for 26 days now – with critical departments hamstrung by furloughs.
"Sadly, given the current security concerns and unless government re-opens this week, I suggest we work together to determine another suitable date after government has re-opened for this address or for you to consider delivering your State of the Union address in writing to Congress on January 29th."
Has this speech ever been delivered in writing before?
The US constitution requires that the president "shall from time to time give to the Congress Information of the State of the Union".
According to the US National Archives, both the first US President, George Washington, and his successor, John Adams, delivered their speeches in person.
It was the third US President, Thomas Jefferson, who began the practice of delivering his State of the Union addresses in writing.
This was the tradition for more than a century until President Woodrow Wilson spoke in person to a joint session of Congress in 1913.
With rare exceptions, all subsequent US presidents have opted to appear in person on Capitol Hill every year to deliver this message setting out their administration's aims and achievements.
The event is attended by every member of the US Senate and House of Representatives, justices from the Supreme Court and military leaders.
More on the US government shutdown
How is the shutdown biting?
The partial shutdown, now on day 26, is inflicting more damage to the US economy than previously predicted, a White House advisor said on Tuesday.
Mr Trump's Council of Economic Advisers have doubled projections of how much economic growth is being lost each week the standoff continues.
On Wednesday, the president is expected to sign legislation backdating wages for 800,000 federal employees, who are going currently unpaid, whenever the shutdown ends.
The Internal Revenue Service and the Federal Aviation Administration on Tuesday said they would call back nearly 50,000 employees to help process tax returns or to work in aviation safety.