Trump attorney general pick faces grilling
http://www.bbc.co.uk/news/world-us-canada-46872412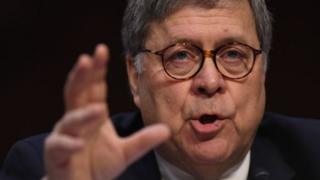 President Donald Trump's attorney general nominee has said the US inquiry into Russia's alleged 2016 election meddling is not a witch hunt.
William Barr told his confirmation hearing that special counsel Robert Mueller's inquiry must conclude.
"I think the Russians interfered or attempted to interfere in the election and we have to get to the bottom of it," he said.
President Trump regularly refers to the Mueller inquiry as a witch hunt.
In Tuesday's hearing, senators also asked why Mr Barr last year called the probe "fatally misconceived" in a legal memo.
Democrats on the Senate judiciary committee suggested that 20-page memo was a "job interview" to impress Mr Trump.
But the nominee, who was also attorney general under President George HW Bush, called that suggestion "ludicrous".
"On my watch, Bob [Mueller] will be allowed to complete his work," Mr Barr said of the inquiry, which has dogged the Republican president's two years in office.
The nominee also told senators he and Mr Mueller had been "good friends" during their previous time working together for the US Department of Justice.
Mueller is all that matters
Analysis by Anthony Zurcher, BBC Washington
The US attorney general sets the government's criminal justice policies, oversees an army of investigators and prosecutors, and provides administration guidance on a wide range of legal issues. He or she is both the nation's top prosecutor and law enforcement officer.
Confirmation hearings for the post would involve close scrutiny at any time and in any situation. At the moment, however, nominee William Barr's views on the ongoing Russia investigation are all that seem to matter.
Mr Barr is saying the right things so far. He assured senators he has the highest respect for special counsel Robert Mueller and will not interfere with his probe. He said he will not be bullied or influenced by anybody, including the president.
Set against this testimony is Mr Barr's past written criticism of the special counsel's conduct. Democrats will have to decide whether his recent promises are enough to overcome their concerns.
Given Mr Barr's long history of government service and the fact that Republicans hold a majority in the Senate, successful confirmation seems fairly certain. Democrats will do their best to lock Mr Barr into supporting the Russia probe, but the only remaining question is how many will eventually vote for him.
During day one of a two-day hearing, Democrats on the panel demanded to know if Mr Barr could say no to Mr Trump.
"I will not be bullied into doing anything I think is wrong by anybody whether it be editorial boards or Congress or the president," he said.
"I am going to do what I think is right."
Democratic Vermont Senator Patrick Leahy asked if a US president could pardon someone on condition the person agreed not to incriminate him.
"No, that would be a crime," Mr Barr responded.
You may also be interested in:
Mr Trump's critics have speculated that he might offer clemency to two former aides who fell foul of the Mueller inquiry.
Paul Manafort or Michael Flynn were convicted of crimes including bank fraud and lying to federal agents.
During questioning, Mr Barr said former Attorney General Jeff Sessions "did the right thing" when he recused himself from the Russia inquiry due to his ties to Mr Trump's presidential campaign.
Mr Trump has repeatedly bellyached over Mr Sessions' move.
The Republican president has said he never would have nominated Mr Sessions if he had known he would excuse himself from oversight of the Mueller inquiry.
Republican Chairman Lindsey Graham asked about anti-Trump phone texts sent between two justice department officials, Peter Strzok and Lisa Page.
The couple had been having an affair while one of them was investigating 2016 Democratic candidate Hillary Clinton's use of a private email server.
"I was shocked when I heard them," Mr Barr said, promising if confirmed to look into the matter.
On Monday, Mr Trump lashed out at FBI officials investigators who are reported to have investigated before the Mueller inquiry whether Mr Trump was a Russian agent.
Those FBI officials – including former FBI Director James Comey, whom Mr Trump fired in May 2017 – are "known scoundrels" and "dirty cops", the president said.
In other moments from the hearing:
Mr Barr said he had turned down a personal offer from Mr Trump to work for his legal defence team
He said it would be an "abuse of power" for Mr Trump to intervene in any investigation he "has a stake in"
Mr Barr stopped short of promising to release Mr Mueller's report, but voiced support for disclosing "as much" of the findings as was "consistent with the rules and regulations"