PM warns of breach of trust on Brexit
http://www.bbc.co.uk/news/uk-politics-46853689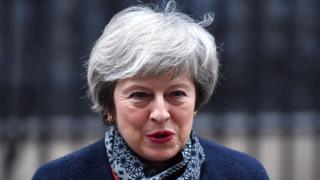 A failure to deliver Brexit would be "a catastrophic and unforgivable breach of trust in our democracy", Prime Minister Theresa May has warned.
Writing in the Sunday Express, Mrs May pleaded with MPs to back her Brexit deal in Tuesday's crunch Commons vote.
Not doing so risks the UK leaving the EU with no deal or Brexit not happening at all, she said.
Meanwhile, No 10 is said to be alarmed at the prospect of MPs taking control of Brexit if Tuesday's vote is lost.
'Our turn to deliver'
Writing in the Sunday Express, Mrs May said the Commons vote on her Brexit withdrawal deal would be the "biggest and most important decision that any MP of our generation will be asked to make".
The PM is widely expected to lose the vote on the withdrawal agreement she reached with the European Union, something some ministers have said will lead to Brexit "paralysis".
Mrs May said: "When you turned out to vote in the referendum, you did so because you wanted your voice to be heard.
"Some of you put your trust in the political process for the first time in decades. We cannot – and must not – let you down.
"Doing so would be a catastrophic and unforgivable breach of trust in our democracy.
"So my message to Parliament this weekend is simple: It is time to forget the games and do what is right for our country."
Mrs May's warning came as Downing Street was reported to be concerned about efforts by a cross-party group of MPs to change Commons rules to enable backbench motions to take precedence over government business if Mrs May's deal falls.
Under the rebels' plan, reported in the Sunday Times, the government could lose control of parliamentary business, which could threaten Brexit legislation and its ability to govern.
BBC political correspondent Chris Mason said one possibility was that backbenchers could legally compel the government to delay Brexit beyond the set departure date – a proposal some MPs have already called for.
It was previously thought only ministers could extend the two-year Article 50 process which, which governs how a member state leaves the EU.
The UK is due to leave the EU on 29 March 2019 automatically, whether the deal is passed by MPs or not.
On Monday the debate on the meaningful vote on Mrs May's deal will resume for a fourth day.
The vote had been scheduled to take place in December but was called off at the last minute by the prime minister, who was facing almost certain defeat.
Last week the government was defeated twice in the Commons on Brexit votes.
In the first, MPs backed an amendment aimed at making it more difficult to leave the EU without a deal.
While in the second they voted for the government to come back to the Commons with a plan B for Brexit within three days should it lose Tuesday's vote.
More than 100 Conservatives and 10 DUP MPs are among those set to oppose the government's deal on Tuesday.
Labour is also set to vote against the deal, but leader Jeremy Corbyn has resisted growing calls from within his own party to get behind another EU referendum, insisting a general election is still his top priority if the deal is rejected.
---
Need some guidance?
If you feel like you ought to know more about Brexit…