Blocking Brexit may cause far-right surge
http://www.bbc.co.uk/news/uk-politics-46847169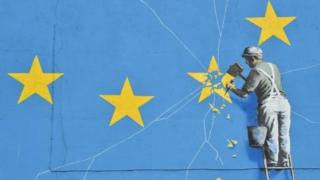 Blocking Brexit could lead to a surge in far-right extremism in the UK, the transport secretary has said.
Chris Grayling told the Daily Mail that failing to leave the EU would cause the 17 million people who voted for Brexit to feel "cheated".
This could end centuries of "moderate" politics in the UK, he said, as he urged his colleagues to back Prime Minister Theresa May's Brexit deal.
A vote on the agreement takes place in the Commons on Tuesday.
MPs are widely expected to reject the deal, negotiated between the EU and UK, with more than 100 Conservative MPs among those opposing it.
Ministers have warned the UK faces Brexit "paralysis" if this happens.
'Political game-playing'
Just days before the critical vote, Mr Grayling, who campaigned to leave the EU, told the Daily Mail: "People have to think long and hard about how they are going to vote.
"This is too important for political game-playing and I urge Conservative MPs who back Brexit and others to back the deal.
"If not, we risk a break with the British tradition of moderate, mainstream politics that goes back to the Restoration in 1660.
"MPs need to remember that Britain, its people and its traditions are the mother of Parliaments.
"We ignore that and the will of the people at our peril."
Mr Grayling said there would be a "different tone" in British politics if the UK failed to leave the EU, and predicted a "less tolerant society" and a "more nationalistic nation".
"It will open the door to extremist populist political forces in this country of the kind we see in other countries in Europe," Mr Grayling told the paper.
"If MPs who represent seats that voted 70% to leave say 'sorry guys, we're still going to have freedom of movement', they will turn against the political mainstream."
Mr Grayling's intervention comes after his Conservative colleagues warned about the possibility of the UK leaving the EU with no deal.
Northern Ireland Secretary Karen Bradley said a no-deal exit would create a "feeling of unrest".
Tory rebel Dominic Grieve, who tabled the amendment that led to a second government defeat on Brexit, urged the prime minister to delay Brexit if her EU deal was rejected by MPs.
Mr Grieve is among a group of MPs calling for a second referendum.