US plea on Syria Kurds unacceptable
http://www.bbc.co.uk/news/world-middle-east-46792329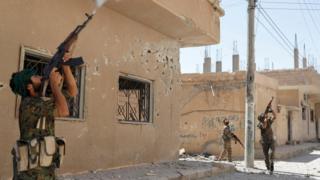 Turkey's president has strongly rejected US calls for his country to protect Kurdish fighters in Syria.
President Recep Tayyip Erdogan said such statements made by US National Security Adviser John Bolton at the weekend were "unacceptable".
Mr Bolton is in Turkey to seek guarantees that Kurds fighting Islamic State (IS) in northern Syria will be safe after a planned US pullout.
Turkey regards the Kurdish YPG militia fighting IS militants as terrorists.
On Tuesday Mr Erdogan told MPs from his AK Party that Turkey could not "accept and swallow" Mr Bolton's message.
He added that the Americans did not know who the YPG and other Kurdish groups were. "If the US evaluates them as 'Kurdish brothers' then they are in a serious delusion," Mr Erdogan said.
Last month US President Donald Trump shocked allies and faced criticism at home when he announced the withdrawal of US forces from Syria, saying that IS had been "defeated".
But over the weekend, at the start of his visit to Israel and Turkey, Mr Bolton said the pullout depended on certain conditions.
The US needed to ensure that the Kurdish fighters were safe and that remnants of IS were defeated, he said.
The YPG is the main component of the Syria Democratic Forces (SDF), a US-backed group that is credited with playing a major role in the fight against IS.
Erdogan's blunt message
Analysis by Selin Girit, BBC News, Istanbul
US-Turkish talks in Ankara over the withdrawal of US troops from Syria were expected to be tense after Mr Bolton's comments about the YPG. But no-one really contemplated that President Erdogan would speak in such blunt terms.
Mr Erdogan said it was impossible to swallow Mr Bolton's comments suggesting that Turkey should agree to protect YPG forces as a pre-condition to the withdrawal.
He said Turkey would do whatever it takes to kill terrorists, adding that an operation in the Kurdish controlled area in northern Syria would take place soon.
Ankara sees the YPG as a national security threat. But Washington wants to reassure the Kurds over the Turkish threat, so they don't feel obliged to cosy up to Russia.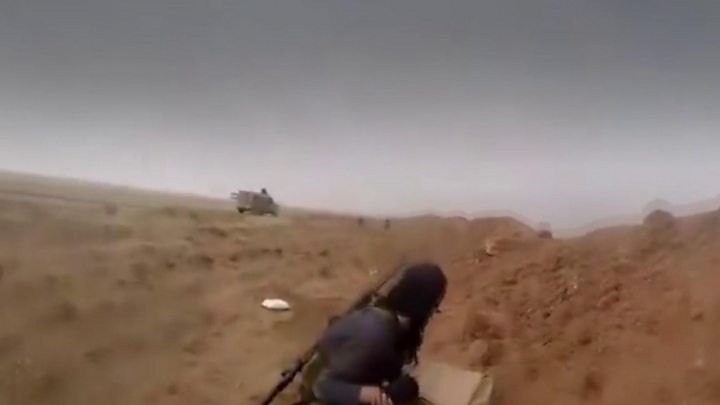 What do we know of Bolton's talks in Turkey?
The US national security adviser met a spokesman for Mr Erdogan, Ibrahim Kalin, on Tuesday morning, to discuss how the planned US withdrawal could take place.
A news briefing was cancelled without explanation.
During his visit to Israel on Sunday, Mr Bolton said: "We don't think the Turks ought to undertake military action that is not fully co-ordinated with, and agreed to by, the United States at a minimum so they don't endanger our troops, but also so that they meet the president's requirement that the Syrian opposition forces that have fought with us are not endangered."
He told reporters there was no timetable for a withdrawal but that there was not an unlimited commitment.
What is the US presence in Syria?
Some 2,000 US military personnel are reported to be in northern Syria. American ground troops first became involved in the country in autumn 2015 when then-President Barack Obama sent in a small number of special forces to train and advise local Kurdish fighters who were fighting IS.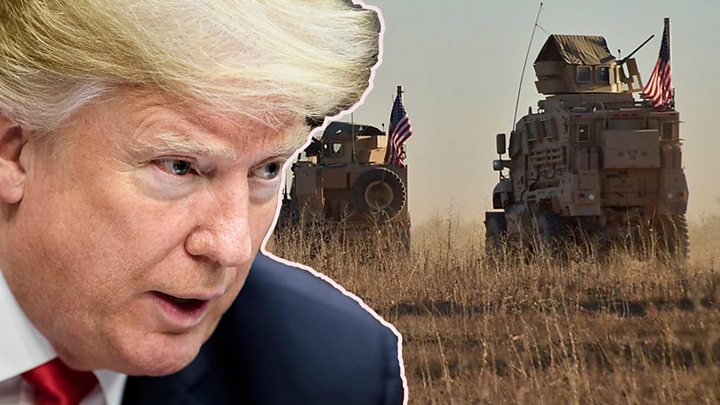 The US did this reluctantly after several attempts at arming anti-IS groups had descended into chaos.
Over the intervening years the number of US troops in Syria has increased, and a network of bases and airfields has been established in an arc across the north-eastern part of the country.