Ghosn tells court he was wrongly accused
http://www.bbc.co.uk/news/business-46790079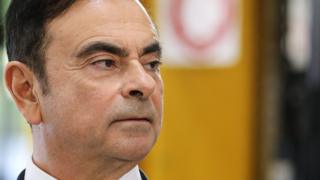 Former Nissan chairman Carlos Ghosn has maintained his innocence in his first court appearance since his arrest in Japan last year.
He has been in custody since November and faces allegations of financial misconduct.
In a prepared statement, Mr Ghosn said he had been "wrongly accused and unfairly detained".
His lawyers requested the court hearing to address the reasons for his lengthy detention.
Japanese prosecutors have charged Mr Ghosn with financial misconduct and accuse him of under-reporting his pay package.
Mr Ghosn, a towering figure of the auto industry, appeared at the Tokyo District court wearing a dark suit and appearing thinner.
"I have been wrongly accused and unfairly detained based on meritless and unsubstantiated accusations," his prepared statement read.
The 64-year-old was expected to tell the court he never received any compensation from Nissan that was not disclosed.
Mr Ghosn said he had "never been accused of any wrongdoing," and had dedicated two decades to "reviving Nissan".
His initial arrest nearly two months ago shocked the industry and his lengthy detention has drawn some criticism.
But a judge in the Tokyo District Court on Tuesday said Mr Ghosn's detention was justified as he posed a flight risk and the risk of evidence tampering, according to reports.
What are the accusations?
The architect of the Renault-Nissan alliance has been accused of "significant acts of misconduct", including under-reporting his pay package and personal use of company assets.
His defence team say the accusations against him are invalid because they do not relate to his salary, but to future payments that he was expected to receive after retirement.
Experts do not expect much to come out of Tuesday's hearing.
"After the hearing, his lawyers will likely request to cancel his detention. But there's no chance it'll get approved," Yoji Ochiai, a lawyer and former prosecutor in Tokyo said.
"With this kind of case, there's no way a court would approve to cancel his detention."
Who is Carlos Ghosn?
His hero status was so big that his life was serialised in one of Japan's famous cartoon comic books
The Brazilian-born boss of Lebanese descent and a French citizen says his background left him with a feeling of being different, which helped him adapt to new cultures
In France he was known as Le Cost Killer, a comment on the deep cuts he made to revive Renault
He was once tipped as a potential president of Lebanon, a move he eventually dismissed because he already had "too many jobs"
In a 2011 poll of people the Japanese would like to run their country Mr Ghosn came seventh, in front of Barack Obama (ninth)