Escape room fire kills five in Poland
http://www.bbc.co.uk/news/world-europe-46765692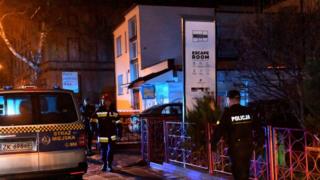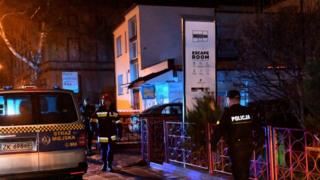 Five teenage girls have died after a fire broke out while they were playing an escape room game in northern Poland.
The girls, all aged 15, were visiting the attraction in the city of Koszalin to celebrate a birthday.
A 25-year-old man was seriously injured in the blaze which started at around 17:00 local time (16:00 GMT) on Friday.
Officials are investigating wiring faults, the proximity of flammable material to heating devices and candles as possible causes.
What are escape rooms?
Participants are locked in a room and must solve a series of puzzles in order to get out.
The games are popular around the world.
The industry has grown rapidly in recent years. In the UK, the number of escape rooms has soared from just seven in 2013 to more than 1,000 as of last year.
What could be the causes?
Chief commander of the state fire service, Leszek Suski, said a number of possible problems with the escape room in Koszalin were being investigated. They are:
Heating devices that may have been too close to flammable material, including two armchairs
Candles that were found in the room, which may have started the fire
The makeshift nature of electrical wiring in the room
Mr Suski said the room was 7.3 sq m (78 sq ft) which was not enough space for the people inside.
He said there were fire extinguishers in the room but they had not been used.
Mr Suski also said the person running the activity was probably not in the room at the time the fire started.
Firefighters believe asphyxiation is the probable cause of death.
How have officials reacted?
Polish President Andrzej Duda said the fire was an "appalling tragedy".
"Five joyful girls starting out in life have had life torn away from them," he wrote on Twitter. "May God protect their parents and loved ones."
Interior Minister Joachim Brudziński shared his condolences.
"I want to express my sympathy and regrets to the families of the victims of the fire," he said in a tweet.
"I've instructed the chief commander of the State Fire Brigade to carry out fire checks on all places of this type across the country," he added.
The mayor of Koszalin, Piotr Jedlinski, has declared Sunday a day of mourning in the city.