Acclaimed Israeli author Amos Oz dies
http://www.bbc.co.uk/news/entertainment-arts-46700471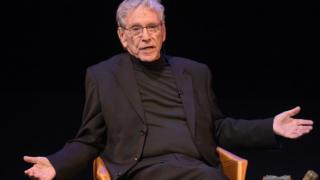 Amos Oz, one of Israel's leading authors, has died of cancer aged 79.
The news was announced by his daughter, historian Fania Oz-Salzberger.
The author's autobiographical work A Tale of Love and Darkness was adapted for the big screen in 2015 and marked the directorial debut of Natalie Portman.
His support for a two-state solution to the Israel-Palestinian conflict led some to brand him a traitor, which he said he wore "as a badge of honour".
Speaking to Kirsty Wark on Newsnight in 2016, he said: "I've been called a traitor many times in my life. I think I'm in wonderful company. History is full of people, men and women, who happened to be ahead of their time and were accused of treason by some of their contemporaries."
His daughter wrote on Twitter: "My beloved father passed away from cancer, just now, after a rapid deterioration, when he was sleeping at peace, surrounded by the people who love him.
"Please respect our privacy. I will not be able to comment. Thank you to those who loved him."
Oz was one of Israel's most widely-read and best-known writers, winning dozens of awards, including the Israel Prize. His books have been translated into 45 languages.
He was born Amos Klausner in Jerusalem in 1939, and the city would provide a canvas for many of his works. One of his first novels, My Michael, published in 1968, was written while he worked in a kibbutz.
The book describes the love and marriage of a young woman against the background of 1950s Jerusalem, has since been translated into 30 languages and was adapted into a movie.
BBC News producer Gidi Kleiman said the author was "a voice for liberal Israel and the search for peace with the Palestinians".
Author and journalist Jonathan Freedland added that Oz was "a guiding light to all those who longed for a just Israel, living in peace with its neighbours".