Protests as Spain cabinet goes to Barcelona
http://www.bbc.co.uk/news/world-europe-46645340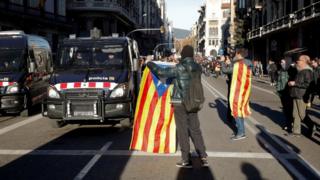 Pro-independence protesters are blocking roads in some parts of Catalonia as Spanish ministers hold a cabinet meeting in Barcelona.
The decision to move the meeting was aimed at reducing tensions, months after Catalan leaders were jailed for trying to break away from Spain.
Prime Minister Pedro Sánchez and Catalan leader Quim Torra agreed on Thursday to an "effective dialogue".
But anti-Madrid protests were expected to grow during the day.
More than 20 roads, including the AP7 and A2 motorways, were blocked by protesters across Catalonia as police were deployed in large numbers ahead of the cabinet meeting. The protests were co-ordinated by a radical group, the Committees for the Defence of the Republic (CDRs).
The cabinet was convened exactly a year after the previous Spanish government held snap elections in Catalonia, a decision seen as provocative by pro-independence groups.
Mr Sánchez started the day with a working breakfast with the Mayor of Barcelona, ​​Ada Colau.
On Thursday evening, Mr Sánchez and the Catalan leader held a symbolic meeting and issued a declaration, pledging their "commitment to an effective dialogue that conveys a political proposal with broad support in Catalan society".
A follow-up meeting between Spain's vice-president and her Catalan opposite number is to take place next month.
Mr Sánchez came to power as the head of a minority Socialist government in June.
The cabinet was set to rubber-stamp a 22% increase in Spain's minimum wage, raising it to €1,050 (£950) a month. That would transform it from one of the lowest in Europe to one of the highest.
What is the background?
Catalonia held its disputed vote on 1 October 2017 and its separatist government declared independence on 27 October.
But Spain's constitutional court deemed the referendum illegal and Madrid imposed direct rule.
Catalonia's then leader Carles Puigdemont fled into exile in Belgium after the failed independence bid. Other Catalan leaders also fled abroad.
Spain's Supreme Court has since withdrawn its European Arrest Warrants against Mr Puigdemont and five of his aides who remain in other countries. But the charges against them have not been dropped, meaning they still face arrest if they return to Spain.
Nine former Catalan leaders are in jail awaiting trial for rebellion and other charges linked to the independence referendum.
They include Carme Forcadell, the former parliament speaker, who is appealing to the European Court of Human Rights to order her release.