Trump supporters angry at wall retreat
http://www.bbc.co.uk/news/world-us-canada-46637773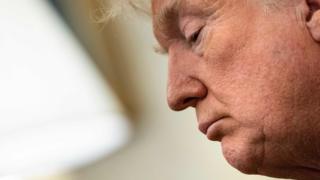 Supporters of US President Donald Trump have turned on him after he was yet again denied funding for a border wall.
Late on Wednesday, the US Congress approved a spending bill to keep federal agencies open until February.
The Republican president was foiled in the Senate by his own party, which refused to grant him any of the $5bn (£4bn) he wants for a US-Mexico wall.
Two years on, Mr Trump has been unable to deliver on the central campaign pledge that electrified his rallies.
Congress faces a Friday midnight deadline for averting a partial shutdown of the federal government.
Failing to agree a longer-term spending plan, the Senate has only been able to approve a seven-week extension of funds.
The House of Representatives is expected to act on the legislation later this week.
President Trump told Republicans on Thursday afternoon he would not approve any deal that denies him wall funding, according to House Speaker Paul Ryan.
Mr Trump has repeatedly suggested in the past he will reject budget bills that include no money for his project, only to sign such measures once they reach his desk.
But fears of a government shutdown over the wall have set markets on edge. On Thursday the Dow fell by 2% – over 400 points – to a 14-month low, according to US media.
Members of the ultra-conservative House of Representatives Freedom Caucus were up in arms over the apparent retreat.
North Carolina congressman Mark Meadows, a key Trump supporter, said: "He [Trump] campaigned on the wall.
"It was the centre of his campaign. The American people's patience is running out."
He called on the president to veto the bill and renegotiate.
Ohio congressman Jim Jordan noted in exasperation that it will only get more difficult next month once Democrats take over the House.
"Let me get this straight," Mr Jordan tweeted. "Our chances of getting the Wall will be better in February when Nancy Pelosi is Speaker than now when we have the majority?
"Give me a break."
Mr Trump's champions in the media are also upset by his failure to seal the deal.
Breitbart News called it a "cave". The Drudge Report used the headline, "Trump in Retreat".
Radio host Rush Limbaugh said the president is going to "get less than nothing".
Right-wing columnist Ann Coulter – author of In Trump We Trust – recently predicted he will not be re-elected.
"Without a wall, he will only be remembered as a small cartoon figure who briefly inflamed and amused the rabble," she wrote.
Fox News host Laura Ingraham also posted a critical tweet.
White House Press Secretary Sarah Sanders said on Thursday that Mr Trump is weighing his options.
"At this moment, the president does not want to go further without border security, which includes steel slats or a wall," she said in a statement.
Despite enjoying two years of a congressional majority, Mr Trump was always unlikely to reach the 60 votes that funding for his wall would need in the Senate, where his party only currently has 51 seats.
And some Republican lawmakers have baulked at the cost of such a barrier, expressing reluctance to divert funding from other budgets, such as the military.
While the wall debate continues, the Department of Homeland Security announced that migrants who illegally enter the US – including asylum seekers – will have to wait in Mexico for their cases to be heard.
The Mexican government has said it will offer migrants work visas and protections while they await asylum proceedings, according to the US Department of State.
The advocacy group Kids in Need of Defense called the move "unconscionable", saying that many families are fleeing violence.
Meanwhile, some Trump supporters have decided to take matters into their own hands, launching a $1bn online fundraiser for the wall.
The GoFundMe has amassed more than $5m in three days.
Brian Kolfage, the Iraq War veteran behind the campaign, said raising the money was achievable if every Trump voter pledged $80.
"This won't be easy, but it's our duty as citizens," Mr Kolfage said. "We can help President Trump make America safe again!"