Sarah Hyland reveals second kidney transplant
http://www.bbc.co.uk/news/world-us-canada-46515903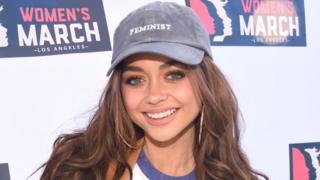 US actress Sarah Hyland has described how having to undergo two kidney transplants left her "contemplating suicide," US media report.
The 28-year-old, who stars in the popular sitcom Modern Family, opened up about her kidney dysplasia in an interview with Self magazine.
She said her body rejected a kidney donated by her father when she was 21, but luckily her brother was a match.
"I had gone through [my whole life] always being a burden," Hyland said.
In the interview published on Monday, Hyland revealed how she had undergone multiple operations and said her battle with kidney dysplasia, a condition that can eventually cause the organ to malfunction, made her feel like she had "failed".
"When a family member gives you a second chance at life, and it fails, it almost feels like it's your fault. It's not. But it does," she said.
"For a long time, I was contemplating suicide, because I didn't want to fail my little brother like I failed my dad."
Hyland was treated with dialysis after her body started to reject her father's kidney two years ago. During her treatment, it was established that her brother, who said he "had her back", was a match.
She said that going through "26 years of always being a burden" because of her health issues made her feel "really helpless", but that she was now "stable".
"I'm thriving. I'm super happy with life," Hyland said.
After the interview was published, Hyland posted a message on social media saying that she hoped "others can relate… and feel like they're not alone".
"Hopefully those that are lucky enough not to experience this will learn something new and take a moment to appreciate their health," she wrote.
Hyland also suffers with endometriosis, a chronic condition where tissue that lines the womb is found in other parts of the body, often resulting in intense pain.
Last year, the actress was criticised about her appearance, with some fans suggesting that a photo posted on Instagram made it look as though she was promoting anorexia.
"I'm here to say that no-one should aim to be the weight that I am right now," she responded on Twitter at the time, adding: "I'm not in control of what my body looks like."
"I was born with so many health issues that doctors told my mother I would never have a normal life."