Ghosn charged with financial misconduct
http://www.bbc.co.uk/news/business-46503064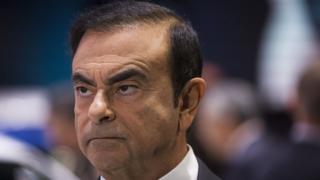 Japanese prosecutors have charged former Nissan chairman Carlos Ghosn with financial misconduct, accusing him of under-reporting his pay package over a five-year period.
He has also been re-arrested on further allegations of under-stating his pay, which is likely to keep him in detention until 30 December.
Mr Ghosn has previously denied the accusations.
Prosecutors have also charged Nissan in relation to the case.
Mr Ghosn was arrested in November after the allegations first surfaced. Monday was the last day he could be held by authorities before he either had to be charged or released.
His defence team say the accusations against Mr Ghosn are invalid because they do not relate to his salary, but to future payments that he was expected to receive after retirement.
'Deepest regret'
Nissan said it was taking the situation "extremely seriously".
"Making false disclosures in annual securities reports greatly harms the integrity of Nissan's public disclosures in the securities markets, and the company expresses its deepest regret," the carmaker said in a statement.
A source close to the firm said that the charges were not unexpected "given the company flagged its concerns" to prosecutors after it had conducted an internal investigation.
If Mr Ghosn is convicted, the charges could mean up to 10 years in prison.
Originally, prosecutors said that Mr Ghosn and senior executive Greg Kelly had conspired to understate Mr Ghosn's pay from 2011 to 2015. The fresh charges, issued on Monday, allege they did the same thing from 2016 to 2018.
From 2010, Japanese firms have been required to disclose the salaries of executives who earn more than 100m yen ($888,000; £697,000).
Carmaker alliance
Brazil-born Mr Ghosn, aged 64, known as the Le Cost Killer for his radical approach to restructuring, was the architect of the Renault-Nissan alliance, and brought Mitsubishi on board in 2016. In the past, he has been hailed a hero in Japan for turning around the ailing Nissan.
Nissan and Mitsubishi both sacked Mr Ghosn as chairman after the arrest last month.
Renault said at the time Mr Ghosn would remain as its chairman and chief executive, but has appointed a temporary deputy chief executive to take over the running of the firm.
Despite selling fewer vehicles, Renault has a 43% shareholding in Nissan, while Nissan's stake in Renault is only 15%.
Nissan holds a 34% stake in Mitsubishi, but has effective control of the company.