Key Trump aide John Kelly to leave job
http://www.bbc.co.uk/news/world-us-canada-46496756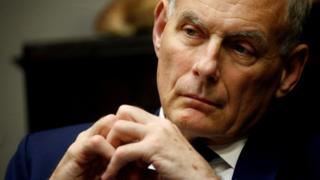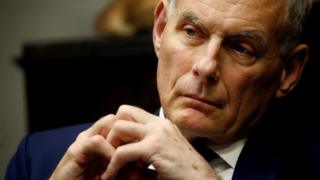 President Donald Trump has announced that his chief of staff John Kelly will leave his job by the end of the year.
There have been persistent reports for several days that Mr Kelly was under pressure to go.
Some reports said that the retired Marine Corps general's relationship with Mr Trump had deteriorated and they were no longer on speaking terms.
But Mr Trump described him as a "great guy" and said a replacement would be named "over the next day or two".
He made the announcement as he headed to Philadelphia for an American football match between army and navy teams.
"He's been with me almost two years now, between two positions," Mr Trump said. "I appreciate his service very much."
Mr Kelly's expected departure means Mr Trump will have had three chiefs of staff and three national security advisers since taking office in January 2017, the BBC's North America Correspondent Anthony Zurcher says.
In total, 28 people have resigned or been fired from the White House during Mr Trump's administration.
Last month Reuters news agency quoted a source as saying that Vice-President Mike Pence's chief of staff Nick Ayers was a possible contender for the chief of staff role.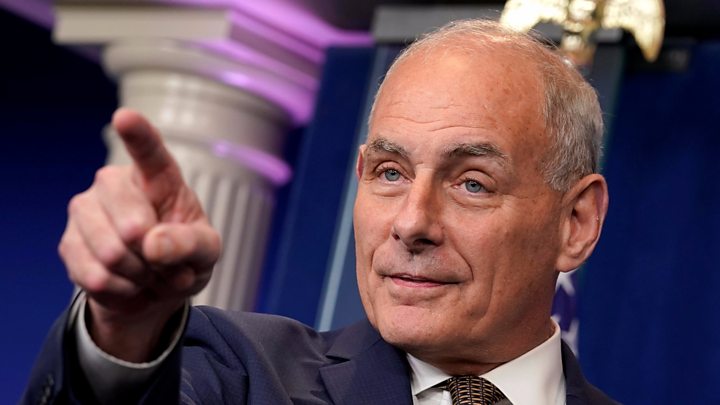 Earlier this year Mr Kelly was forced to deny that he had called Mr Trump an "idiot" after the quote was included in a book about Mr Trump by the veteran investigative journalist Bob Woodward.
Mr Kelly is said to have used the description repeatedly and also allegedly said that "it's pointless to try to convince him of anything".
Mr Trump initially nominated Mr Kelly to oversee Homeland Security before promoting him to chief of staff last July, replacing Reince Priebus.