Merkels choice elected ruling party leader
http://www.bbc.co.uk/news/world-europe-46487246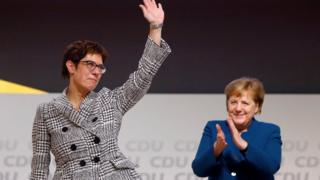 Germany's ruling Christian Democrat Union has chosen Annegret Kramp-Karrenbauer as its new party leader, ending Angela Merkel's 18-year reign.
The CDU general secretary narrowly beat Friedrich Merz, a millionaire lawyer, in a run-off vote in Hamburg.
Ms Kramp-Karrenbauer, or AKK as she is also known, received 517 of 999 votes.
Ms Merkel, who plans to serve out her term as chancellor until 2021, gave an emotional farewell speech on Friday at the special party conference.
As the head of Germany's largest party, Ms Kramp-Karrenbauer could now become the next German chancellor.
The 56-year-old former prime minister of the state of Saarland was the favourite for party leader and Ms Merkel's choice to succeed her.
Earlier, during her farewell speech as party leader, Mrs Merkel praised AKK for her 2017 electoral success in Saarland, in a clear hint of the chancellor's personal preference.
Who is AKK?
Popular in her home state of Saarland and Berlin, she has an unpretentious style and a reputation for calm analysis, as well as political acumen.
Ms Kramp-Karrenbauer joined the CDU as a student in 1981 and rose up the ranks of state-level politics. She was seen as Ms Merkel's heir apparent and protégé.
Ms Kramp-Karrenbauer became the first woman to serve as a state minister for internal affairs in 2000 and the first woman to serve as prime minister of Saarland, a position she held from 2011 to 2018.
She is a Merkel loyalist, perceived as someone who will replicate much of the chancellor's style and policy.
Who did she beat?
Her opponent, Mr Merz won 482 votes in a run-off. The lawyer was a powerful player in the CDU in the early 2000s but left politics when he fell out with the chancellor.
Since then, the 63-year-old has built a career in the private sector and works for US investment firm BlackRock.
He appeals to the more conservative and business-minded wing of the party, and had the backing of ex-Finance Minister Wolfgang Schäuble.
A third candidate was considered in the first round of voting, Health Minister Jens Spahn, but the former banker was not seen as a likely winner and received 157 votes.
The 38-year-old is a divisive figure for many, having ruffled feathers in the party and cabinet.