BBC exposes huge scale of online cheating ads
http://www.bbc.co.uk/news/blogs-trending-46468389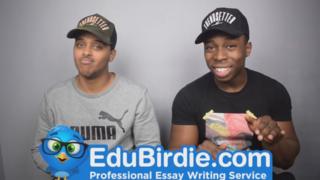 YouTube has deleted thousands of videos promoting academic cheating in the last week after a BBC Trending investigation.
The videos all advertised essay-writing services, which can lead to serious penalties for students.
Facebook and Google have been asked by a regulator to stop making money from adverts for these companies.
All the social media companies say they are taking steps to discourage dishonest behaviour.
Seven months after the BBC first exposed YouTube stars selling cheating on their channels, the companies which promise essays written to order are back, and are being promoted across social platforms.
YouTube has removed thousands of videos in the last few days after we sent them more than 850 examples that breached the platform's rules.
Facebook has also removed advertising for several essay-writing services that the BBC identified this week.
Some ads urged A-level students to use Facebook Messenger place an order to get their assignments written for them in less than five hours.
While essay-writing services are not illegal, using them to cheat can result in students facing severe penalties – from being zero graded to being thrown out of university.
Evasive tactics
EduBirdie, the Ukrainian company we exposed in May, is not alone.
The BBC Trending investigation has found 13 other essay sites – some owned by Boosta, the parent company of EduBirdie – which have been using social media stars to promote their services.
Some YouTube channels are promoting multiple essay companies.
The most prolific appears to be To Catch a Cheater, which has advertised EduBirdie and four other sites in dozens of videos.
Channel host Luis Mercado declined to comment.
After the BBC's initial investigation, EduBirdie continued to pay YouTubers to promote its services, using tactics designed to avoid detection.
These include not publishing a link to the company's website alongside videos that contain the adverts. And in some videos, creators wear EduBirdie logo T-shirts without revealing their relationship to the company.
Michaela Mendez wears the branded clothing in several new videos, including one in which she unboxes an award from YouTube. She refused to tell the BBC if she had been paid by EduBirdie, but said she did not condone plagiarism.
Nick Turgeon, an 18-year-old YouTuber based in the UK, was sponsored by EduBirdie to make two slime videos that appeal to young children.
They are among the thousands now removed by the platform, and Nick says he regrets taking the company's money.
"It's morally wrong, and I'm not sad they've been deleted. I think it was awful they asked me, not knowing their intention, to promote them to such a young and gullible audience," he says.
EduBirdie told the BBC that it doesn't tell YouTubers what to say and that its essays are intended as a reference guide.
It described its service as "bringing the age-old industry of ghost writing into the digital era".
But the regulator responsible for upholding the standard and reputation of degrees across the UK is so concerned it has written to YouTube asking it to commit to stop allowing promotion of what are known as "essay mills".
'Global problem'
The Quality Assurance Agency (QAA) has also formally written to Google and Facebook to suggest they stop taking advertising revenue from essay-writing companies.
Douglas Blackstock, the chief executive, told the BBC: "These large platforms should cut off the publicity for these websites. It's just morally wrong."
"What worries me is that companies might take action to get the BBC off their back or to get us off their back for a few months and then they lose attention. They need to be vigilant. This is a global problem," Mr Blackstock says.
EduBirdie is also increasingly advertising on Snapchat, where videos disappear after 24 hours, to encourage students to pay somebody to write their work for them.
"Why would you want to do your own work?" asks US star Edwin Burgos, in one of several Snapchat ads in which he encourages viewers to swipe up to load the EduBirdie website.
In another ad repeatedly posted by American influencer Mikey Barone, he attempts to persuade fans that they won't get into trouble because "EduBirdie is not cheating."
He then urges viewers to buy EduBirdie essays. "You don't even have to write it, you could just sit and wait for them to finish," he says.
Neither Burgos or Barone responded to requests for comment.
Many of the transactions for the essay-writing companies are processed through PayPal. The QAA has also called on PayPal to stop processing payments for essay-writing companies. PayPal told the BBC it was looking into the matter.
Google has been allowing essay mills to buy advertising space on search results pages, even though its own polices specifically ban the promotion of this type of company.
YouTube, which has a long-standing ban on adverts for essay-writing companies, told the BBC earlier this year that it would work to help creators better understand they "must not promote dishonest activity".
However, the BBC has discovered that since then, more than 100 popular channels have posted new videos containing new EduBirdie ads.
Around a fifth of them were also promoting the company before May.
'What's wrong with that'
B Lou and Zik Asiegbu are among those who have resumed promoting EduBirdie. Their Zias music reaction channel has 2.8 million subscribers.
In one recent video, Asiegbu lifts his sweatshirt to reveal an EduBirdie T-shirt before he and B Lou recommend that students use the company.
Asiegbu, who also advertises EduBirdie on his personal social media accounts, claimed that the video "was a parody and we were not actually promoting EduBirdie".
B Lou has also included EduBirdie ads in several new videos on his Lou Wop channel. He did not respond to requests for comment.
They have been joined by new YouTubers like the British channel Dan osi. In one ad, the two hosts of the channel tell viewers: "They write your essays for you. I don't see what's wrong with that."
The channel told the BBC that its promotion of EduBirdie in four videos had been "a mistake".
Another Youtube channel that has advertised the company is Cody & Zoe, whose two hosts have more than six million followers on the lip-synching app TikTok. On their joint channel, the two 17-year-olds jointly recommend EduBirdie to their fans.
In the advert, the couple agree they could personally benefit from using the website.
In one unsolicited sponsorship offer seen by the BBC, the company asked a YouTuber to promote the company with this message: "If you are in school or college and writing essays is killing you, there is EduBirdie.com where you can hire super smart nerds to custom write your papers for you."
EduBirdie sent the offer to Joe Andrews – whose BluMaan style channel has more than 1.3 million subscribers. He told the BBC: "It was really simple to me, I wasn't going to take on a sponsorship that was clearly promoting cheating.
"It's crazy to me that so many YouTubers have already promoted this company. Not only is it morally wrong, it can get your audience in serious trouble with university and it can even get the YouTuber in trouble by YouTube taking down their video."
He agreed to help the BBC's research by expressing interest in EduBirdie's offer, and followed up by asking the company if his videos would be deleted if he was caught advertising EduBirdie.
EduBirdie responded that "everything will be ok" if the video page didn't include a link to the EduBirdie website and if subtitles were turned off during the EduBirdie advert.
"We released hundreds of video like that," a company representative wrote.
Defeat the Cheat
For students, the consequences of handing in work that someone else has done can be life changing.
It is known as academic misconduct and can lead to qualifications being cancelled, or students being asked to leave university.
The Students Union at Coventry University has been campaigning with the slogan #DefeatTheCheat to raise awareness about academic cheating among fellow students.
The union's vice president for education, Adedoyinsola Adebanjo, said this year that several Coventry students were blackmailed for up to £5,000 after using an essay-writing service.
But he's also worried it could undermine the qualifications of hard-working students.
"Imagine if you get a first class, I get a first class, but what if you've paid [an essay mill]?"
'Black market' for students
The QAA and others argue that social media companies have a moral responsibility to discourage the promotion of academic dishonesty.
A YouTube spokesperson said: "We don't allow ads for services that enable dishonest behaviour, such as essay-writing and any videos with paid promotions of these services will be removed from the platform. We work hard to combat this kind of abuse, but we know there's more work to be done."
Snapchat told us they expect everyone, including influencers, to stick to their guidelines, which prohibit "deceptive practices and illegal activities."
The platform said users should flag content breaking its rules, but it didn't say if it would take action against the accounts identified by BBC Trending.
Facebook says it reviews all adverts prior to publication "to make sure that they meet our Advertising Policies".
But after the BBC found several adverts for the Grademiners and EduBirdie companies, it removed the pages and associated ads.
In a statement Facebook thanked the BBC and said: "We don't allow pages and ads which promote academic cheating on Facebook." It urged users to report accounts or content that breached its rules.
A Department for Education spokesperson said: "We have been clear that these services are a black market for students, they exploit vulnerable young people and attempt to undermine the quality of our degrees.
"We welcome the action that was taken by YouTube to remove videos promoting cheating in response to the BBC's investigation, and we expect this to continue."
Do you have a story for us? Email BBC Trending.
You can follow BBC Trending on Twitter @BBCtrending, and find us on Facebook. All our stories are at bbc.com/trending.