Priyanka Chopra dons 75-ft wedding veil
http://www.bbc.co.uk/news/world-asia-india-46450340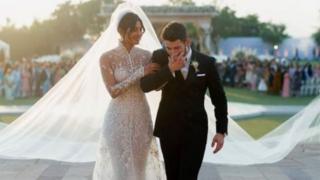 What's white, sheer and 75ft long? Priyanka Chopra's wedding veil.
The Bollywood star, who married US singer Nick Jonas in Rajasthan state over the weekend, unveiled her intricately detailed wedding dress in an Instagram post on Wednesday.
The Ralph Lauren designed dress had more than two million mother-of-pearl sequins sewed into it, but it was the veil that stole the show.
Jonas and Chopra got engaged in the summer after a whirlwind romance.
Naturally, the internet had a lot to say about her veil, which was so large it needed a small team of men to carry it.
And some people made some striking comparisons.
While others pointed out that it trumped Duchess Meghan Markel's wedding veil, which was 16ft long.
Chopra donned the hand-beaded Ralph Lauren dress in a ceremony on Saturday on the lawn of the Umaid Bhawan Palace in the city of Jodphur.
The ceremony was officiated by Jonas' father Paul Kevin Jonas, a pastor.
The couple's three-day wedding extravaganza also included a traditional Hindu ceremony on Sunday which saw the couple exchange vows again.
Speaking to People magazine, Chopra said the wedding was a "religious mash up", adding that they "took beautiful traditions that we both grew up with and personalised them in a way that makes sense for us."
Jonas, 26, and Chopra, 36, got engaged in the summer, not long after news of their romance became public.
They have since said in an interview that they first started exchanging texts in September 2016. They appeared together at the Met Gala in May 2017 as they had both been dressed by Ralph Lauren, and their relationship started making headlines around a year later.
Chopra is one of Bollywood's highest-paid actresses, having won the Miss World pageant in 2000 and going on to make more than 50 films in India.
She broke into acting in the US with a part in the TV series Quantico and film roles in Ventilator, Baywatch and A Kid like Jake.