President Bush lies in state at US Capitol
http://www.bbc.co.uk/news/world-us-canada-46435237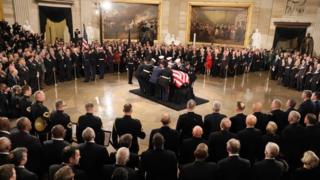 President George HW Bush has returned to Washington for a final time, to lie in state at the US Capitol.
His coffin had earlier left Texas to a 21-gun salute and was carried to Washington on board Air Force One – temporarily renamed Special Air Mission 41 in homage to the late president.
Mr Bush will lie in state in the rotunda until his funeral on Wednesday, a day of national mourning.
His body will be buried at his home in Texas alongside wife, Barbara.
Mr Bush, who served as the 41st US president between 1989 and 1993, died late on Friday in Texas at the age of 94.
He had been receiving treatment for a form of Parkinson's disease and had been admitted to hospital with a blood infection in April.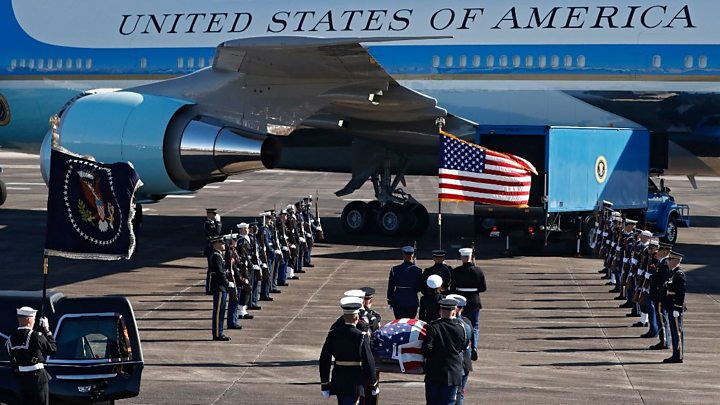 The public will be able to pay respects at the rotunda from 19:30 local time on Monday (00:30 GMT Tuesday), until Wednesday's invitation-only funeral service at the National Cathedral.
President Donald Trump, who has in the past clashed with the Bush family, will attend the funeral with his wife Melania.
A service was held in the rotunda after Mr Bush's coffin arrived on Monday afternoon, with members of the military serving as pallbearers. Mr Bush's son, former President George W Bush, was in attendance.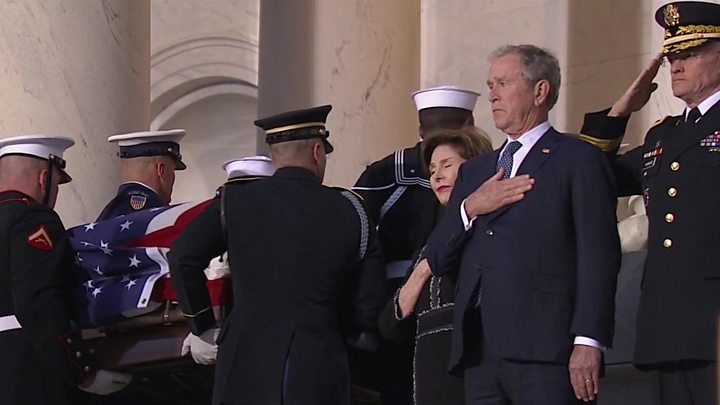 In a eulogy, House Speaker Paul Ryan said: "Here lies a great man", adding that "no-one better harmonised the joy of life and the duty of life".
Mr Ryan said Mr Bush was a "great leader and a good man, a gentle soul of firm resolve".
Senate majority leader Mitch McConnell said: "Through the Cold War and the Soviet Union's collapse, he kept us on course. When the rule of law needed defending in the Persian Gulf, he kept us on course."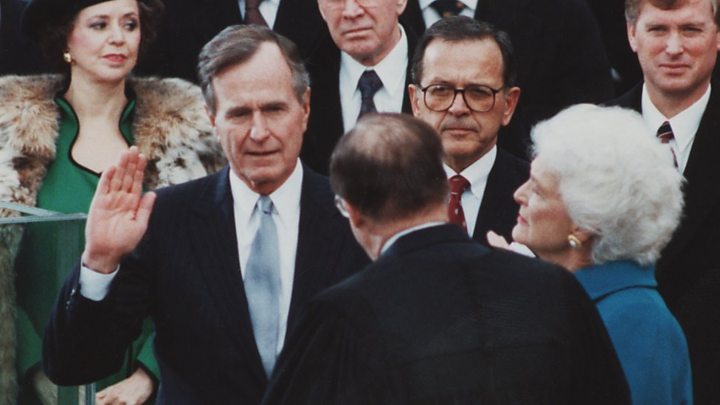 Vice-President Mike Pence said there was a "kindness about the man that was evident to everyone who met him".
George HW Bush was a decorated fighter pilot in World War Two, a head of the CIA and vice-president to Ronald Reagan before being elected president in 1988.
Also making the final journey with President Bush was his loyal labrador service dog, Sully.
Mr Bush's spokesman, Jim McGrath, tweeted a picture of Sully with the casket, with the caption: "Mission complete."