No you Kant: Russian row over philosopher
http://www.bbc.co.uk/news/world-europe-46440713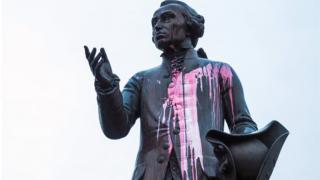 A Russian vice-admiral has denounced the 18th-Century German philosopher Immanuel Kant as a "traitor", calling for him to be rejected in a vote to rename Russia's Kaliningrad airport.
Vice-Admiral Igor Mukhametshin's rant to sailors came after anti-Kant protesters had thrown paint at a statue of the great thinker in Kaliningrad.
Kant was easily beaten in the online vote by Empress Elizabeth (1709-1762).
Kaliningrad was Kant's home when the Baltic city was Prussian Königsberg.
The city was renamed Kaliningrad after Soviet forces drove the Nazis out in 1945, at huge cost.
It was mostly in ruins after the fighting and its majority ethnic Germans were expelled in 1947. The airport is currently named Khrabrovo, after a nearby village.
Kant's pure reasoning
Kant is famous for duty-based (deontological) ethics, which teaches that acts are justified if they are intrinsically "the right thing to do", regardless of the consequences.
He based his argument on the "categorical imperative" – a system of moral rules.
But according to the vice-admiral of the Baltic Fleet, sailors have their own categorical imperative to dismiss the philosopher's works. Kant "betrayed his motherland", Vice-Admiral Mukhametshin said.
Yet there is no historical evidence that Kant was hostile towards imperial Russia.
The officer's tirade, delivered to sailors lined up on deck, came before the vote closed on 1 December and has appeared on YouTube (in Russian),
"He humiliated himself and on his hands and knees begged to be given a department at the university, so that he could teach, and he wrote some incomprehensible books that none of those present here today have read, and won't read," the vice-admiral said.
He urged the sailors to vote for Marshal Alexander Vasilevsky, a Red Army officer who played a key role in the Soviet campaign against Nazi Germany in World War Two, including the capture of Königsberg.
Empress Elizabeth beat both Kant and Marshal Vasilevsky in the vote. The empress's Russian army captured Königsberg in 1758 but abandoned it five years later.
Anti-Kant vandals
Last week three Kant-related sites in Kaliningrad were vandalised with paint: a statue of him, his tomb and a memorial plaque where his house once stood.
Leaflets left at the scene said "the name of the German Kant will not tarnish our airport".
The online poll will attach the names of famous Russians to 47 of Russia's biggest airports. Only Russians registering on the official website could take part.
The vote was organised by several state bodies, including the Federal Public Chamber and Russian Historical Society.
Kaliningrad was named after leading Bolshevik revolutionary Mikhail Kalinin, who backed Soviet dictator Joseph Stalin, and so survived the communist terror of the 1930s.
In the Soviet period many Russian towns and cities were renamed after communist leaders and heroes.