Mark Hamill questions lightsaber sale
http://www.bbc.co.uk/news/entertainment-arts-46443534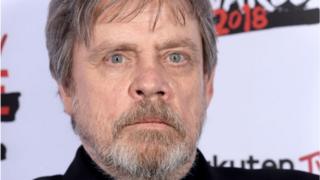 Star Wars actor Mark Hamill has questioned the sale of a lightsaber billed as his character's "original" at a Hollywood auction.
Profiles in History's Blockbuster Hollywood Treasures auction will be held in Los Angeles later in December.
Their website lists one of the lots as "The original Mark Hamill 'Luke Skywalker' lightsaber", estimated to sell for up to $200,000 (£157,000).
But on Twitter, Mr Hamill explained it may not be a one-off.
"Be Advised," the actor wrote, "There was no ONE lightsaber I used in the films, but many, MANY, both for myself & my stunt-double." He ended the tweet with the hashtag, #BuyerBeware.
But the Academy Award-winning production designer for the original Star Wars film, Roger Christian, told the BBC the lightsaber is an original.
"There are five originals I handmade myself, and this is one of them," he said. "It is real – I've got the Oscar to prove it."
Mr Christian said the low budget meant he was putting together lots of different elements to make the props, meaning all the lightsabers are unique.
"I was supergluing things together – they all look different."
A press release issued by Profiles in History listed a number of pieces of Star Wars memorabilia up for sale.
Aside from the lightsaber – a type of weapon used in the film series – a pair of hands belonging to robot character C-3PO and a pilot helmet signed by cast members are also up for sale.
Memorabilia from other films will also be sold at the auction, including lots from the Indiana Jones, James Bond, Star Trek, Back to the Future and Terminator franchises.
The sale is scheduled to take place from 11-14 December in Beverly Hills.
You may also like: