Full Brexit legal advice to be published
http://www.bbc.co.uk/news/uk-politics-46446694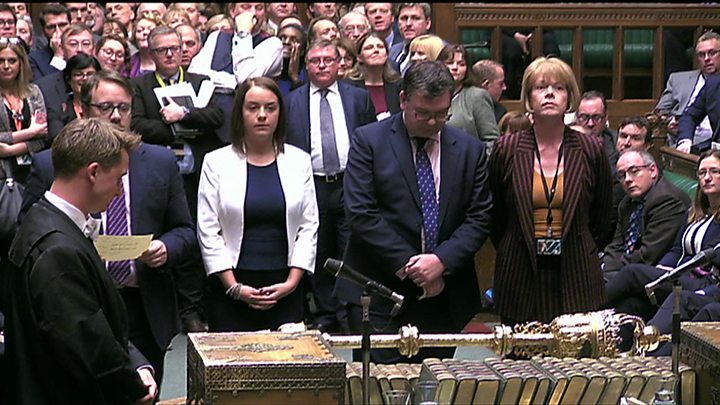 The government will publish its full legal advice on Theresa May's Brexit deal after MPs found it in contempt of Parliament for not doing so.
The Commons supported a motion, backed by six opposition parties, demanding full disclosure, by 311 votes to 293.
Labour demanded the attorney general's advice should be released ahead of next Tuesday's key vote on Mrs May's deal.
In response Commons Leader Andrea Leadsom said the government "would respond" on Wednesday.
She told MPs she would refer the issue to Commons Privileges Committee to establish the decision's constitutional repercussions.
Commons Speaker John Bercow said it was "unimaginable" MPs would not now get to see the information before they decided whether to accept or reject the agreement with the EU.
An attempt by ministers to refer the whole issue, including the government's conduct, to the committee of MPs was earlier defeated by four votes.
The contempt vote move, which is believed to be unprecedented, came as Theresa May prepared to sell her Brexit agreement to MPs at the start of five days of debate on her EU agreement.
In other Brexit-related developments:
The BBC said it had been unable to agree a format for a Brexit debate between Theresa May and Jeremy Corbyn following discussions with the parties
The UK should be able to unilaterally cancel its withdrawal from the EU, according to a top European law officer.
MPs are now voting on a motion tabled by Tory MP Dominic Grieve which would give the Commons more of a say on what happens if Mrs May's deal is rejected
The Attorney General Geoffrey Cox published a summary of the advice on Monday and answered MPs questions for three hours – but said that full publication would not be in the national interest.
Labour had accused ministers of "wilfully refusing to comply" with a binding Commons vote last month demanding they provided the attorney general's full and final advice.
Following Tuesday's vote, the privileges committee will decide which ministers should be held accountable for this failure and what sanction to apply, with options ranging from a reprimand to a potential suspension from the House of Commons.
Shadow Brexit Secretary Sir Keir Starmer said Tuesday's vote had "huge constitutional and political significance" and it was "unprecedented" for ministers to have been found in contempt.