Davidson opens up after Ariana split
http://www.bbc.co.uk/news/world-us-canada-46431274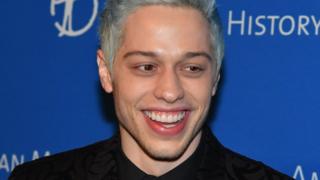 US comedian Pete Davidson has revealed how his break-up with singer Ariana Grande has contributed to him being bullied and feeling suicidal.
"No matter how hard the internet… tries to make me kill myself, I won't," he wrote in an Instagram post.
The couple's well-publicised split is referenced in Ariana Grande's latest hit single, Thank U, Next.
The pair, who got together in May and became engaged shortly after, ended their relationship in October.
On Monday, Davidson took to social media to describe how he was "trying to understand" how a person can receive abuse "without any facts or reference".
"I've been getting online bullied and in public by people for nine months," the 25-year-old Saturday Night Live (SNL) comedian wrote.
"I've kept my mouth shut. Never mentioned any names, never said a word about anyone or anything."
Davidson said he had previously opened up about his mental health issues "in the hopes that it will help bring awareness and help kids like myself who don't want to be on this earth".
Grande, also 25, took a break from social media in October following intense media coverage of her break-up with Davidson after the couple's five months together.
The video for her song Thank U, Next, which is a self-love anthem, recently broke YouTube records when it became the first video to reach 1 million views in less than 34 minutes.
In October, Davidson spoke about the relationship while performing stand-up at a benefit gig for the Democrats in Los Angeles.
He said: "Well, as you can tell, I don't want to be here. There's a lot going on. Anybody have any open rooms? Anybody looking for a roommate?"
The pair initially met back in 2016, when Grande appeared on SNL.
US sources reported at the time of their break-up in October this year that the pair had agreed "it was not the right time for their relationship to take off".