Cricketers brother framed terror suspect
http://www.bbc.co.uk/news/world-australia-46435553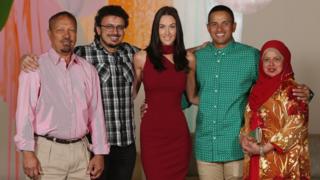 The brother of Australian cricket star Usman Khawaja has been arrested for allegedly framing another man over a fake terror plot.
Police in Australia have charged Arsalan Khawaja, 39, with forgery and an attempt to pervert justice.
In August, police charged a Sri Lankan student in Sydney over an alleged plan in a notebook about killing Australian politicians.
Mohamed Kamer Nizamdeen was detained for a month before being released.
The 25-year-old PhD student had claimed that that he was framed by a rival at his workplace, the University of New South Wales.
On Tuesday, police alleged Mr Nizamdeen had been "set up in a planned and calculated manner" by Mr Khawaja.
Mr Khawaja, who worked in the same department as Mr Nizamdeen, had been partly motivated by a "personal grievance" over a woman, police said.
Wrongful detainment
Mr Nizamdeen endured more than four weeks in solitary confinement after he was arrested on terrorism charges.
Police accused him of plotting the attacks in his notebook. An alleged hit list included the former Australian prime minister Malcolm Turnbull and landmarks such as the Sydney Opera House.
However he was released in October after police failed to connect his handwriting to the writing in the notebook.
Mr Nizamdeen, who has returned to Sri Lanka, has indicated he plans to seek compensation from authorities for his wrongful detention.
On Tuesday, New South Wales police expressed "regret" for Mr Nizamdeen's experience.
"We feel very sorry for him and what has happened to him," Assistant Commissioner Mick Willing said.
Mr Khawaja was arrested on Tuesday in suburban Sydney. Police had questioned him over the notebook last month.
His brother Usman Khawaja is one of Australia's leading batsmen. He is set to play in the test series against India, beginning on Thursday.
Speaking hours after the arrest, he asked for his family's privacy to be respected.
"It is a matter for police to deal with. Out of respect for the process it would be inappropriate for me to make any further comment," he said.