Woman dies in France fuel protests
http://www.bbc.co.uk/news/world-46429930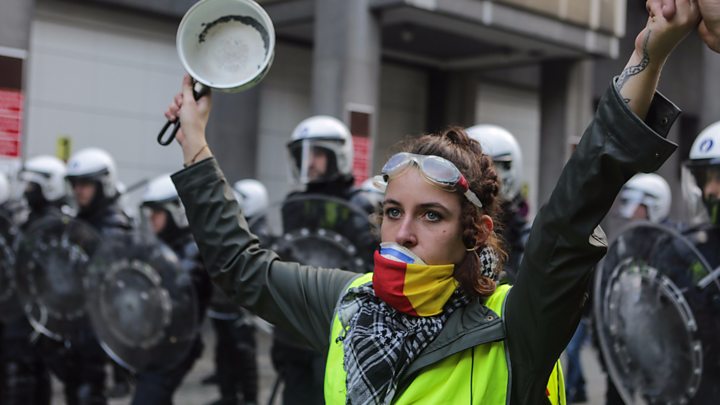 An 80-year-old woman has died after being hit by a tear gas canister at her window during Saturday's fuel protests in the French city of Marseille.
The woman, who lived in an apartment near to where the protests were taking place, was hit in the face while closing the shutters.
Protests over fuel tax have grown into general anger at higher living costs.
After being taken to hospital, the woman died during an operation after suffering shock, local media report.
Three other people have been killed in the protests since demonstrations started more than two weeks ago, police said on Sunday.
France's interior ministry says about 136,000 people took part in the protests nationwide on Sunday, showing widespread support for the movement known as the "gilets jaunes" (yellow vests), who complain about a sharp increase in fuel taxes.
The are so called because they have taken to the streets wearing the high-visibility yellow clothing that is required to be carried in every vehicle by French law.
Protests continued into Monday, as students in about 100 secondary schools across the country demonstrated against educational and exam reforms.
Also on Monday, French ambulance drivers staged further demonstrations against a range of social security and healthcare reforms they say could affect their services.
Dozens of trucks formed a blockade from Paris's Place de la Concorde to the French National Assembly.
One protester told the Reuters news agency:
"[The reforms] will bludgeon us financially and destroy our companies. We're going to have to fire people, that's for sure."
It is unclear whether the groups of students and health workers have directly aligned themselves with the "yellow vests."
French media shocked by worst rioting since 1968
By BBC Monitoring
There is shock and anger in the mainstream French press after "yellow vest" protesters ran riot in Paris neighbourhoods, burning cars and looting shops.
Left-wing daily Libération says: "Paris has undoubtedly experienced the most violent rallies since the events of May '68." The paper notes the "heterogeneity" of the protesters – from nationalists and far-right student groups to hard-left militants and anarchists.
In an editorial entitled "National emergency", centre-right daily Le Figaro says that 1 December will "remain a collective injury for the nation". It comments that "in the face of this explosion of inexcusable violence", the whole country "had the feeling of witnessing the collapse of the state".
Business daily Les Echos says in its headline that President Emmanuel Macron "is facing chaos". "After the violent scenes on Saturday, the Elysée is still looking for a strong political response," the paper notes.
Centre-left daily Le Monde speaks of a "major political crisis" and notes that after returning from Argentina, President Macron immediately went to the Arc de Triomphe in central Paris which was a "scene of violence".
French President Emmanuel Macron held an urgent security meeting earlier on Monday. Ministers said that while no options had been ruled out, imposing a state of emergency had not been discussed during the talks.
More than 100 people were injured in the Paris protests, including 23 members of the security forces, and nearly 400 people were arrested, police said.