Were so happy, we thought it had gone
http://www.bbc.co.uk/news/uk-46421814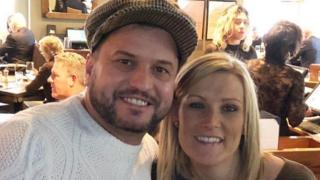 Be it fate, or a stroke of good luck, Daniella Anthony and John Drennan are soon to be reunited with their precious piece of jewellery.
"We are so happy, we can't believe it," the young couple said after discovering their lost engagement ring had been found.
The pair, from Peterborough in the UK, had flown to New York to celebrate their 10-year dating anniversary.
Mr Drennan said he'd put a lot of thought into the proposal.
Speaking to BBC News on Sunday evening, he said he had carried the ring around in his pocket for two days before finding the right moment.
"I want to clarify that I did not propose over a grate in Times Square – that's where we lost it," Mr Drennan said.
The momentous occasion had taken place in Central Park a few hours earlier.
"The time was right. There were autumn leaves everywhere and not many people."
Daniella said yes straight away but they both knew the ring wasn't the right size.
"I tried to tell John it was too big, but he insisted I wear it," Ms Anthony said.
"I told her it was fine. I was just so happy to finally call her my fiancée after all this time," Mr Drennan added.
The happy couple decided to grab a bite to eat and see the Christmas Spectacular in Times Square when the ring escaped.
"We were walking back to the hotel. I can still visualise the ring. Bouncing once… bouncing twice and then it was gone," Mr Drennan said.
With the help of dozens of passers-by they managed to get the grate off and search underneath for at least two hours.
But it was to no avail.
"We just presumed it was gone. In the end, we had no choice but to walk away and try to enjoy the rest of our weekend," Mr Drennan said.
They arrived home on Sunday and said they were planning on going straight to the jewellery store to buy another ring.
"I couldn't stand the thought of her being without one," Mr Drennan said.
But just moments after they touched down at the airport, a friend alerted them to the social media campaign being driven by the New York Police Department.
Police had posted the CCTV footage of the couple trying to get the ring from the grate and used Twitter to appeal to find them.
"Hey guys, is this you?" the friend asked the couple.
"We could not believe it, we really thought it was gone," Ms Anthony said.
"We don't use Twitter – we had absolutely no idea this was going on. But we are so happy."
"We are so thankful to everyone – especially the New York Police Department and everyone who shared our story," the couple said.
They also wanted to send a heartfelt thank you to everyone who stopped to help look at the scene.
There was one family in particular that stayed on for moral support.
"They had a little girl who gave Daniella a big hug and told her not to worry," Mr Drennan said.
"At the time, that hug meant everything."
The couple will now liaise with the NYPD to get the ring safely returned to their home in Peterborough.