Merkels PM cheat sheet amuses Australia
http://www.bbc.co.uk/news/world-australia-46421877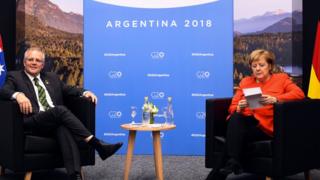 As Australia's fifth prime minister since 2013, Scott Morrison could probably forgive German Chancellor Angela Merkel for doing some quick study before their first meeting.
As the pair sat down together at the G20 summit, cameras captured Mrs Merkel reading an apparent briefing note about Mr Morrison. It also carried his image.
Many watching on from afar were amused, not least people in Australia.
Its government denied that the incident was embarrassing for either nation.
"Angela Merkel's department, no doubt… was simply ensuring that the chancellor was properly briefed," Australian Trade Minister Simon Birmingham said on Monday.
Mr Birmingham said it was common for such briefing notes to feature a picture alongside a biography.
However, many noted that the scene appeared a bit awkward.
"Who is this? Australians can probably relate to Angela Merkel's predicament," read a headline in The Sydney Morning Herald.
Mr Morrison became prime minister in August after his predecessor, Malcolm Turnbull, was forced out by party rivals.
Mr Turnbull was the fourth Australian leader to be deposed in this way since 2010. Mrs Merkel, by contrast, has been Germany's leader since 2005.
US President Donald Trump also asked Mr Morrison about the leadership change when the pair met earlier at the G20 summit in Buenos Aires, Argentina.
"We just ran through what the events were," Mr Morrison told reporters of the conversation.
Mr Morrison's centre-right coalition fell into minority government after losing a recent by-election, and remains behind the Labor opposition in opinion polls.
Australians are due to vote in a general election next year, most likely in May.