Alabama man shot in back by police
http://www.bbc.co.uk/news/world-us-canada-46434717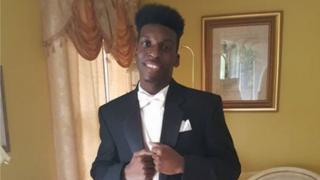 A man wrongly killed by police in an Alabama mall was shot three times from behind, an autopsy has revealed.
Emantic Bradford Jr, known as EJ, was shot in the head, neck and hip at the Riverchase Galleria in Hoover, Alabama.
Police had identified him as the gunman in the shooting of an 18-year-old man and 12-year-old girl last month.
But they later admitted they were mistaken and have since arrested another man. Erron Brown, 20, handed himself in to police.
According to an autopsy requested by Bradford's family, a police officer shot the 21-year-old three times from behind.
Benjamin Crump, the lawyer representing Bradford's family, reportedly told a news conference that based on the autopsy, "this officer should be charged with a crime".
"There's nothing that justifies him shooting EJ as he's moving away from him."
The officer responsible has been placed on administrative leave, and an investigation is under way.
However, authorities have given scant details about the case, and are refusing to release body camera footage of the incident.
In a joint statement reported by broadcaster ABC News, Hoover Mayor Frank Brocato and police chief Nicklaus Derzis said disclosing such evidence could "jeopardise the integrity" of the investigation.
Bradford was carrying a weapon at the time of the shooting, for which he had a permit. Police said he "heightened the sense of threat" at the scene by drawing his gun after shots rang out at the mall.
Under Alabama gun law, it is not illegal to carry a gun in public, but the Riverchase Galleria prohibits firearms on its premises.